| | | |
| --- | --- | --- |
| BEHOLD THE SUN: Would you like to see fiery prominences and new-cycle sunspots with your own eyes? On sale now: Personal Solar Telescopes. | | |
BRIEF MYSTERY: A curiously short-lived type of gamma-ray burst has astronomers puzzled. Leading experts discuss the clues at today's Gamma-ray Burst Symposium in Huntsville, Alabama: full story.
LONG-RANGE FORECAST: Approximately nine days from now, a solar wind stream will hit Earth. That's a long-range forecast made possible for the first time by NASA's Stereo-B spacecraft. The stream is flowing from a coronal hole photographed this morning by the spacecraft's extreme ultraviolet telescope: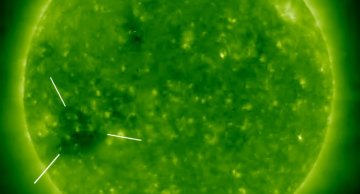 In years past, the longest-range forecasts of solar wind streams amounted to six or seven days. Stereo-B has extended the range to eight or nine days. It does this trick by looking over the sun's eastern horizon to find coronal holes before they can be seen from Earth. The orbit of Stereo-B is similar to Earth's, yet it lags 38o behind our planet, giving it an "around-the-bend" view of the sun.
Arctic sky watchers should be alert for auroras at the end of the month. A Halloween storm could be brewing.
Oct. 2008 Aurora Gallery
[Previous Octobers: 2007, 2006, 2004, 2003, 2002, 2001, 2000]
INSIDE THE STREAK: On Oct. 16th, a streak of light split the morning sky over Central Coast, Australia. Astronomer Mike Salway caught it with his Canon 350D: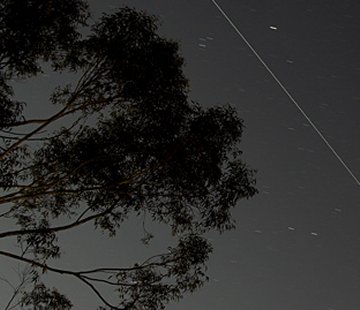 What was it? A look inside the streak with Salway's 12-inch telescope provided the answer: click here.
"I like the shadow falling across the space station's radiators - I hadn't seen that before," says Salway. "Also, in this movie of the flyby, you can see a flare caused by sunlight glinting off a Progress rocket docked to the ISS."
The space station is now making dawn flybys of North America--and it's even visible in broad daylight. Readers, check the Satellite Tracker for viewing times.
more images: from Leonardo Julio of Buenos Aires, Argentina; from John Stetson of South Portland, Maine