SPACESHIP SIGHTINGS: Space shuttle Atlantis is docked to the International Space Station (ISS) and together the two spacecraft are putting on a good show in the night sky. Check the Simple Satellite Tracker for flybys of your home town.
NORTHERN LIGHTS: Last night on Baffin Island, near the Canadian Arctic Circle, "the skies finally opened up after weeks of cloudy weather to showcase the dance of the Northern Lights," reports Claus Vogel. "As luck would have it, a student of mine drove me by snow machine to the beach just in time to see the aurora explode over Pangnirtung Fjord." He recorded the display using a Nikon D700: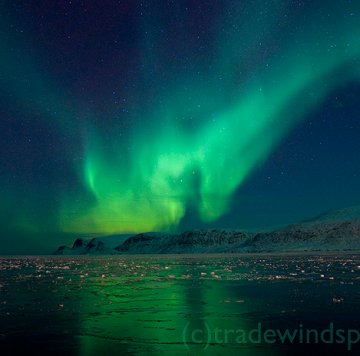 With the recent fall of polar night, "the season of the arctic lights has began again!" says Vogel. Arctic sky watchers should remain alert for auroras this weekend as a solar wind stream continues to buffet Earth's magnetic field.
November Northern Lights Gallery
[previous Novembers: 2008, 2007, 2006, 2004, 2003, 2002, 2001]
SPACESHIPS IN THE SUN: "The International Space Station (ISS) and space shuttle Atlantis transited our sun today at 12h26m57s as seen from Bridgeton, Maine," reports John Stetson, who recorded the split-second passage using a solar-filtered telescope and a digital camera: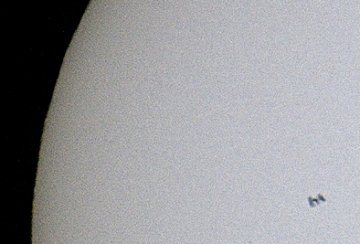 "The ISS was 743 kilometers from Maine at the time of the photo, and its silhouette had an angular diameter of only 25 arcseconds. Docked alongside, Atlantis was even smaller at 12 arcseconds," he says.
"If the weather remains favorable, the Spaceweather Satellite Tracker shows that there will be more opportunities to see the ISS and Atlantis in the nights ahead. They will fly over New England--after dark--shining about as brightly as Jupiter." The two spaceships (docked before Nov. 25th and undocked afterward) be easy to see, no squinting or solar filters required.
---
2009 Leonid Meteor Gallery
[previous Leonids: 1998, 2001, 2002, 2006]
---