EVENING SKY SHOW: When the sun sets tonight, go outside and look south. Jupiter and the Moon are gathered together in the constellation Capricornus only a few degrees apart. Catch them if you can before the sky fades to black. A Jupiter-Moon conjunction framed by twilight-blue is a very pretty sight. [sky map]
images: from M. Raşid Tuğral of Ankara, Turkey; from Mohamad Soltanolkottabi of Kashan, Esfajan, Iran; from Tamas Ladanyi of Veszprem, Hungary; from Wioleta Zarzycka of Iceland
SOLAR ACTIVITY: For a change, there is something to see on the sun. Two new-cycle active regions are putting on a show for astronomers with backyard solar telescopes. Alan Friedman sends this picture from Buffalo, New York: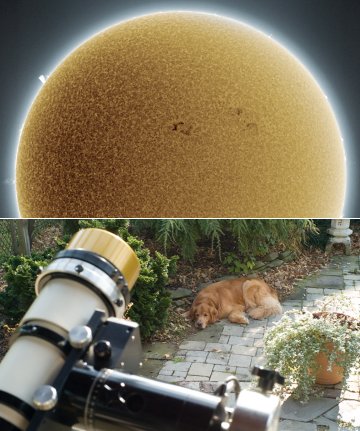 "While I was hard at work taking pictures of the sun, my big golden retriever Harry was also hard at work--enjoying the sun on a warm November Sunday," says Friedman. "I guess that makes him a sundog."
Thousands of miles away in sunny California, astrophotographer Gary Palmer was attracted by the same active regions. He video-recorded an expanse of solar terrain 400,000 km wide--"about the same as the distance between Earth and the Moon," Palmer notes. "I call this movie Going with the Flow." An 'IMAX' version is also available.
more images: from Andy Yeung of Hong Kong; from David Leong of Hong Kong; from Michael Wilk of Augsburg, Germany
WEEKEND AURORAS: Saturday night on Baffin Island near the Canadian Arctic Circle, "the skies finally opened up after weeks of cloudy weather to showcase the dance of the Northern Lights," reports Claus Vogel. "As luck would have it, a student of mine drove me by snow machine to the beach just in time to see the aurora explode over Pangnirtung Fjord." He recorded the display using a Nikon D700: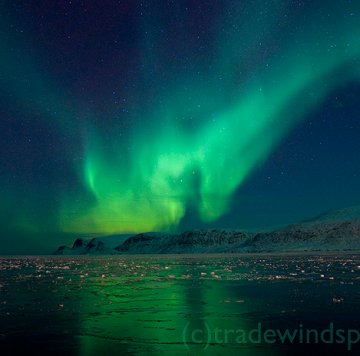 With the recent fall of polar night, "the season of the arctic lights has begun again!" says Vogel. High-latitude sky watchers should be alert for auroras.
November Northern Lights Gallery
[previous Novembers: 2008, 2007, 2006, 2004, 2003, 2002, 2001]
---
2009 Leonid Meteor Gallery
[previous Leonids: 1998, 2001, 2002, 2006]
---