| | | |
| --- | --- | --- |
| SPACESHIP SIGHTINGS: Would you like a call when the space station is about to fly over your backyard? Sign up for Spaceweather PHONE. | | |
MONSTER WAVES ON THE SUN: Data from NASA's STEREO spacecraft have confirmed the stunning reality of monster waves on the sun known as "solar tsunamis." Science@NASA has the full story.
DOUBLE FLYBY ALERT: Space shuttle Atlantis undocked from the International Space Station this morning at 4:53 am EST. The separation sets the stage for double flybys of North America on Wednesday evening, when Atlantis and the ISS will soar through the night sky side by side--a fantastic sight! Check the Simple Satellite Tracker for flybys.
Earlier this evening, astrophotographer Olivier Staiger caught the pair flying over the Swiss Alps: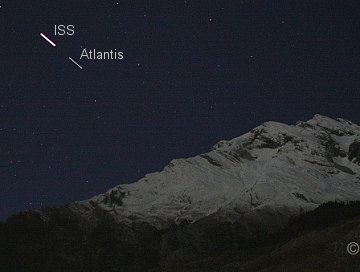 "It was a little more than 7 hours after undocking," says Saiger. "A very nice flyby!"
more images: from Marco Vidovic of Stojnci, Slovenia; from Tamas Ladanyi of Veszpremfajsz, Hungary;
NORTHERN LIGHTS: A solar wind stream is buffeting Earth's magnetic field and causing geomagnetic storms around the Arctic Circle. Last night in Lofoten, Norway, geoscientist Rob Stammes says the needle on his magnetograph spent the whole evening swinging wildly and he could see auroras beaming through the clouds. Not far away in Kvaløya, the sky was filled with green: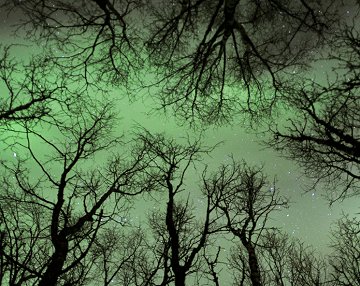 "The Northern Lights were everywhere--north, south, east and west," says photographer Fredrik Broms. "It was a magical sight."
Polar sky watchers should remain alert for auroras tonight as the solar wind continues to blow.
UPDATED: November Northern Lights Gallery
[previous Novembers: 2008, 2007, 2006, 2004, 2003, 2002, 2001]
---
2009 Leonid Meteor Gallery
[previous Leonids: 1998, 2001, 2002, 2006]
---