| | | |
| --- | --- | --- |
| SPACESHIP SIGHTINGS: Would you like a call when the space station is about to fly over your backyard? Sign up for Spaceweather PHONE. | | |
MONSTER WAVES ON THE SUN: Data from NASA's STEREO spacecraft have confirmed the stunning reality of monster waves on the sun known as "solar tsunamis." Science@NASA has the full story.
DOUBLE FLYBY ALERT: Yesterday, space shuttle Atlantis undocked from the International Space Station, setting the stage for some spectacular double flybys of towns and cities around the world. Johnny Perkins reports from Mechanicsville, Virginia: "I got home from work at 6:00 pm and saw on Spaceweather.com that the spaceships were coming my way at 6:19 pm. I hurried outside just in time to catch Atlantis and the ISS as they cleared the trees."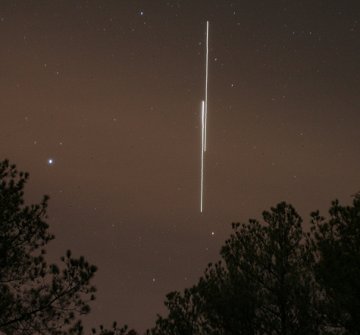 "I have seen a lot of passes, but I still enjoy catching one when I can," he says. "The image is a 20-second exposure with a Canon 350D."
The double flybys continue tonight. Atlantis and the ISS are still circling Earth together as Atlantis prepares to land in Florida on Friday morning, Nov. 27th. Check the Simple Satellite Tracker for viewing times.
more images: from Ernie Mross of Arches National Park, Moab, Utah; from Robert T. Smith of Stoneville, NC; from Olivier Staiger near Sion in the Swiss Alps.; from Mark A. Brown of Springfield, Virginia; from Daniel Owen of Monarch, Utah; from Ethan Tweedie of Pottsboro, Texas; from Christopher Calubaquib of El Sobrante,California; from Marco Vidovic of Stojnci, Slovenia; from Tamas Ladanyi of Veszpremfajsz, Hungary;
NORTHERN LIGHTS: This is a good week to be around the Arctic Circle. "Last night, the skies over the Pangnirtung Fjord were once again filled with dancing lights," reports Claus Vogel from Baffin Island in northern Canada. "We've had dazzling auroras all week." He took this picture using a Nikon D700: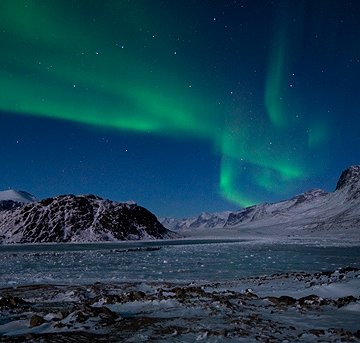 "The half moon provides ideal lighting conditions for photographing Northern Lights. I'm keeping my fingers crossed for more in the days ahead," he says.
He may get his wish. The solar wind stream that fueled last night's display is still buffeting Earth's magnetic field. Polar sky watchers should remain alert for auroras.
November Northern Lights Gallery
[previous Novembers: 2008, 2007, 2006, 2004, 2003, 2002, 2001]
---
2009 Leonid Meteor Gallery
[previous Leonids: 1998, 2001, 2002, 2006]
---