| | | |
| --- | --- | --- |
| SPACESHIP SIGHTINGS: Would you like a call when the space station is about to fly over your backyard? Sign up for Spaceweather PHONE. | | |
ATLANTIS RETURNS TO EARTH: Space shuttle Atlantis landed at Kennedy Space Center this morning at 9:44 am EST. The STS-129 mission that included three spacewalks and more than six days at the International Space Station has been completed.
THANKSGIVING SKY SHOW: "What a great way to celebrate Thanksgiving!" says Mark Marquette of Boones Creek, Tennessee. "Last night after turkey dinner, my daughter Jesse and I went outside and watched a bright double flyby of the space shuttle Atlantis and the International Space Station. I photographed Jessie enjoying the show through binoculars."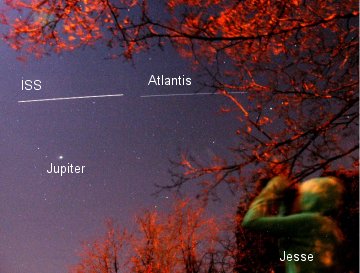 Mark and Jessie have reason to be thankful. Like thousands of others around the USA, they witnessed one of the last double flybys of the shuttle and space station. In 2010, NASA plans to retire the space shuttle. With only five shuttle missions left, this particular sky show is going to become increasingly rare. Stay tuned to the Simple Satellite Tracker for viewing times.
more images: from Tom Warner of Rapid City, SD; from Doug Zubenel of De Soto, KS; from Dr. Wayne Wooten of Pensacola, Florida; from Max Bittle of Suncook, NH; from Pete Lardizabal of St Johns, Florida; from Chris of Monroe, LA; from Thomas Faber of Marietta, GA; from Gary Weston of Cyprus; from Rich Schottler of Loveland, CO; from Sinan Cate of Ortaca, Muğla, Turkey; from Chuck Yeager of Athens, AL;
NORTHERN LIGHTS: This is a good week to be around the Arctic Circle. "Last night (Nov. 25), the skies over the Pangnirtung Fjord were once again filled with dancing lights," reports Claus Vogel from Baffin Island in northern Canada. "We've had dazzling auroras all week." He took this picture using a Nikon D700: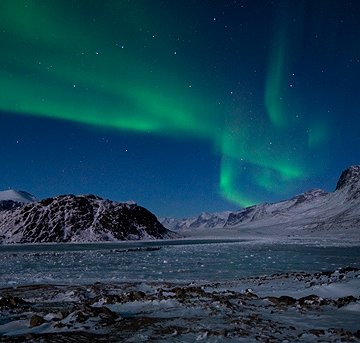 "The half moon provides ideal lighting conditions for photographing Northern Lights. I'm keeping my fingers crossed for more in the days ahead," he says.
He may get his wish. The solar wind stream that fueled last night's display is still buffeting Earth's magnetic field. Polar sky watchers should remain alert for auroras.
UPDATED: November Northern Lights Gallery
[previous Novembers: 2008, 2007, 2006, 2004, 2003, 2002, 2001]
---
2009 Leonid Meteor Gallery
[previous Leonids: 1998, 2001, 2002, 2006]
---