VOLCANO WATCH: Seismic activity continues at Alaska's Mount Redoubt volcano and geologists say an eruption could occur at any moment. The last time an Alaskan volcano blew its top (Kasatochi in August 2008), about a million tons of ash and sulfur dioxide flooded the stratosphere, causing fantastic sunsets around the northern hemisphere and possibly reducing Earth's temperature by a fraction of a degree. More SO2 is in the offing. Stay tuned for updates.
AURORA ROCKET: On Thursday night, Jan. 29th, researchers at the Poker Flat Research Range in Alaska launched a pair of rockets directly into the Northern Lights. Lance Parrish saw the first launch through the window of his home in Skiland, dashed for his camera (a Nikon D3), and returned just in time to catch the second rocket: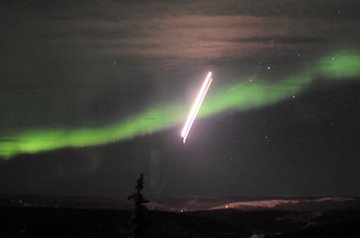 "I took the pictures hand held through the window, which explains the lousy quality and double track of the rocket," he says.
The name of the mission Parrish witnessed is "ACES," short for Auroral Current and Electrodynamics Structure. University of Iowa physicists designed the experiment: Two rockets fly more than 200 miles high into an auroral arc. The first rocket measures electric currents and fields at the top edge of the arc while the second rocket makes the same measurements at the bottom edge. Researchers hope the data will help them explain the origin of shapes (arcs, curtains, sheets) that make Northern Lights so mesmerizing. According to the University of Iowa, the rockets collected so much data, the results may take a full year to analyze. Stay tuned.
UPDATED: Jan. 2009 Aurora Gallery
[Previous Januaries: 2008, 2007, 2005, 2004, 2001]
SKI HALOS: What do you do when you see a skier flying through a sundog? Simple. Execute a hockey stop, take off your gloves, extract a digital camera from the folds of your snow suit, and--click!--photograph the split-second encounter: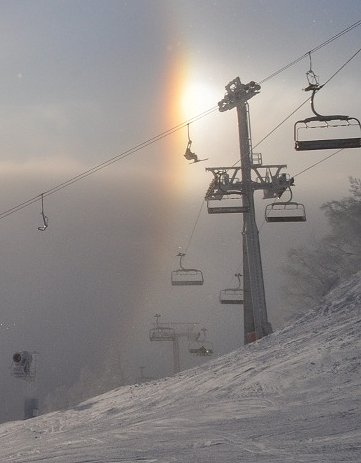 Skiing photographer Ivar Matheson did everything right on Jan. 27th when he took the picture above. "I was at the Åre ski resort in Sweden. It was a sunny day and the air was filled with ice crystals. This gave rise to an impressive display of luminous sun halos, sundogs, sub-sundogs, subsuns, upper and lower sun pillars and tangent arcs." The complete collection is a must-see.
Going skiing? Be alert for "ski halos"--and practice your hockey stop.
---
Comet Lulin Photo Gallery
[Comet Hunter telescope] [sky map] [ephemeris]
---