Where's Saturn? Is that a UFO--or the ISS? What's the name of that star? Get the answers from mySKY--a fun new astronomy helper from Meade.

AURORA WATCH: High-latitude sky watchers should be alert for auroras tonight. A high-speed solar wind stream is buffeting Earth's magnetic field and this could spark a geomagnetic storm.

SOLAR CYCLE 24 BEGINS: Solar physicists have been waiting for the appearance of a reversed-polarity sunspot to signal the start of the next solar cycle. The wait is over. Yesterday, a magnetically reversed sunspot emerged at solar latitude 30 N, shown in this photo taken by Greg Piepol of Rockville, Maryland: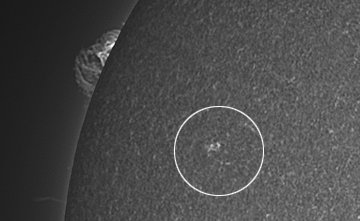 Photo details: Coronado SolarMax90 CaK, Lumenera SKYnyx 2-2 CCD
For reasons explained in a recent Science@NASA story, this marks the beginning of Solar Cycle 24 and the first step toward a new solar maximum. Intense solar activity won't begin right away. Solar cycles usually take a few years to build from solar minimum (where we are now) to Solar Max (expected in 2011 or 2012). It's a slow journey, but we're on our way!
more images: from John Nassr of Baguio, Philippines; from Cai-Uso Wohler of Bispingen, Germany.
QUADRANTID METEORS: On Friday morning, Jan. 4th, the skies above Guffey, Colorado, were streaked with meteors. Chris Peterson caught 46 of them with his all-sky camera at the Cloudbait Observatory:
"All were brighter than 1st magnitude," says Peterson, "and a number of these meteors were fireballs (brighter than magnitude -4)."
The source of the display: near-Earth asteroid 2003 EH1. Every year in early January, Earth passes through a stream of dust trailing the asteroid, giving rise to the annual Quadrantid meteor shower. Studies of these early-January showers suggest that 2003 EH1 is not really an asteroid, but rather the largest fragment of a comet that broke apart circa 1490 AD. Debris from the breakup drifted toward our planet for ~500 years and now appears in the form of Quadrantid meteors.
---
Comet 17P/Holmes Photo Gallery
[World Map of Comet Sightings]
[sky map] [ephemeris] [orbit] [comet binoculars]