| | | |
| --- | --- | --- |
| NEW AND IMPROVED: Turn your iPhone or iPod Touch into a field-tested global satellite tracker. The Satellite Flybys app now works in all countries. | | |
PHOBOS FLYBY: On March 3rd, Mars Express will fly past Phobos at a distance of only 67 km, the closest any spacecraft has ever been to this mysterious moon of Mars. The purpose of the flyby is not to take pictures but to map the gravity field of Phobos and, thus, to determine its internal structure. Spacecraft cameras will be turned off during the encounter to provide a clean "carrier signal" for the radio-gravity experiment. Hi-res images will be made, however, on March 7th during a follow-up flyby at a range of 107 km. Follow the action at the ESA flyby blog.
SOLAR ACTIVITY: Old sunspot 1045 still has some life left in it. On March 1st, beginning at 2245 UT, magnetic fields around the much-decayed active region erupted for more than three hours. STEREO-B had an excellent view of the blast, shown here in a snapshot through the spacecraft's extreme ultraviolet telescope: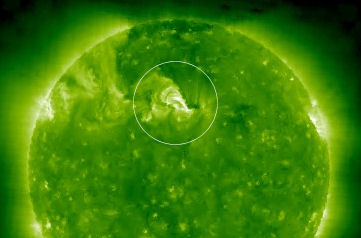 Click here to set the scene in motion
The eruption hurled a billion-ton CME away from the sun (image), but not toward Earth. The blast site is located on the sun's eastern limb where it faces away from our planet. This marks the fourth time in the past two days that a CME has billowed away from the sun without heading in our direction. Earth keeps dodging the bullet.
With solar activity on the rise, it's only a matter of time before a CME hits. And then...be alert for auroras.
February Northern Lights Gallery
[previous Februarys: 2009, 2008, 2007, 2006, 2004, 2003, 2002]
EVENING STAR: After a long absence from the evening sky, Venus is emerging from the glare of sunset to resume her position as Evening Star. Sky watchers everywhere are making their first Venus sightings of the year--even astronauts. Soichi Noguchi sends this picture from the International Space Station (ISS):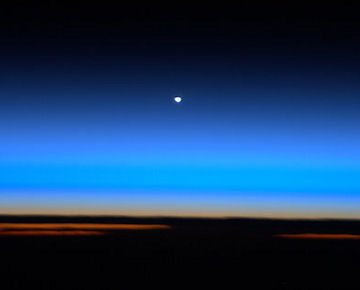 The Japanese engineer and astronaut is doing a 4-month tour of duty on the ISS, and he is taking lots of pictures of Earth and sky. You can find them on his Twitter page. Venus is one of his favorite targets.
To see the same bright planet astronauts have been admiring, look west at sunset. Venus pops out of the twilight as soon as the sun dips below the horizon. Welcome back, Evening Star.
more images: from Kevin Witman of Cochranville, Pennsylvania; from John C McConnell of Maghaberry Northern Ireland.