| | | |
| --- | --- | --- |
| NEW AND IMPROVED: Turn your iPhone or iPod Touch into a field-tested global satellite tracker. The Satellite Flybys app now works in all countries. | | |
PHOBOS FLYBY: Later today, March 3rd, Mars Express will fly past Phobos at a distance of only 67 km, the closest any spacecraft has ever been to the mysterious asteroid-moon of Mars. The purpose of the flyby is not to take pictures but to map the gravity field of Phobos and, thus, to determine its internal structure. Spacecraft cameras will be turned off during the encounter to provide a clean "carrier signal" for the radio-gravity experiment. Hi-res images will be made, however, on March 7th during a follow-up flyby at a range of 107 km. Follow the action at the ESA flyby blog.
TREMBLING EARTH, WOBBLY STARS: In Chile, astronomers know the ground is still shaking. They can see it in the stars. Colin Legg reports from the Andes east of Santiago: "I made this 88-second exposure on Sunday night, Feb. 28th, less than 24 hours after the big 8.8-magnitude quake. It records the movement of the Earth in the star trails during an earth tremor."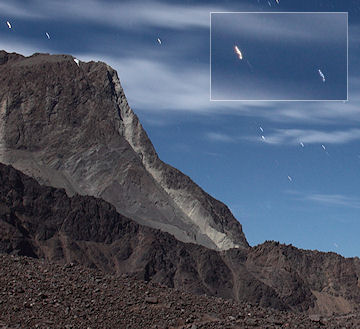 Earthquake experts say the shaking will continue for months. Indeed, in the days after the "Big One", Chilean seismometers have recorded more than 10 aftershocks in the range 6th to 7th magnitude, and more than 200 aftershocks stronger than 4th magnitude. A tip for astrophotographers: Keep your exposure times short. The stars over Chile could be wobbling for some time to come.
NORTHERN LIGHTS: Northern spring is almost here--and that means it's aurora season. For reasons researchers don't fully understand, the weeks around equinoxes are the best time of the year to look for Northern Lights. Just last night the sky over Norway unexpectedly erupted in color: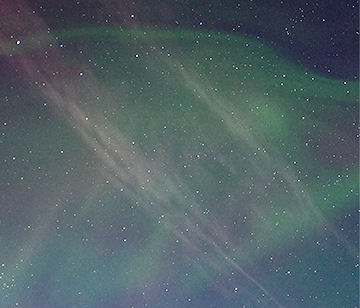 "I didn`t expect to see any auroras, but then a sudden outburst came at about 22:00 local time," reports Fredrik Broms of Kvaløya. "After a brief but intense peak in activity, with a wonderful corona in green and red, the Northern Lights calmed down and behaved in a way I haven't seen before. They criss-crossed above the thin moonlit clouds, creating an eerie look in the winter landscape. Very pretty."
Stay tuned for more as the equinox approaches!
UPDATED: March Northern Lights Gallery
[previous Marches: 2009, 2008, 2007, 2006, 2005, 2004, 2003]