| | | |
| --- | --- | --- |
| NEW AND IMPROVED: Turn your iPhone or iPod Touch into a field-tested global satellite tracker. The Satellite Flybys app now works in all countries. | | |
PHOBOS FLYBY A SUCCESS: On March 3rd, Mars Express flew past Phobos at a distance of only 67 km--the closest any spacecraft has ever been to the mysterious asteroid-moon of Mars. European Space Agency mission controllers say the spacecraft is in good health and its experiment to measure the gravity field of Phobos appears to have been a complete success. Next up: Mars Express will execute a 107 km flyby of Phobos on Sunday, March 7th, and send back high-res photos. Stay tuned!
NORTHERN LIGHTS: Northern spring is almost here--and that means it's aurora season. For reasons researchers don't fully understand, the weeks around equinoxes are the best time of the year to look for Northern Lights. On March 2nd, right on cue, the sky over Norway unexpectedly erupted in color: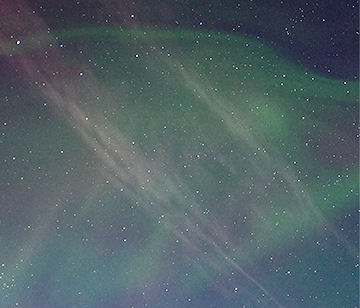 "I didn`t expect to see any auroras, but then a sudden outburst came at about 22:00 local time," reports Fredrik Broms of Kvaløya. "During a brief but intense peak of activity, I saw a stunning corona in red and green. The auroras were criss-crossed by thin moonlit clouds, giving the winter landscape an eerie appearance. It was very pretty."
Stay tuned for more as the equinox approaches!
UPDATED: March Northern Lights Gallery
[previous Marches: 2009, 2008, 2007, 2006, 2005, 2004, 2003]
TIDAL WAVE! Tsunamis, such as the one spawned by the recent 8.8 magnitude earthquake in Chile, are often mistakenly called "tidal waves." In fact, tides and tsunamis have little to do with one another. One is caused by the gravitational pull of the sun and moon; the other is caused by the rumbling geology of our own planet.
To find a real tidal wave, go to the Severn river in Gloucestershire, UK: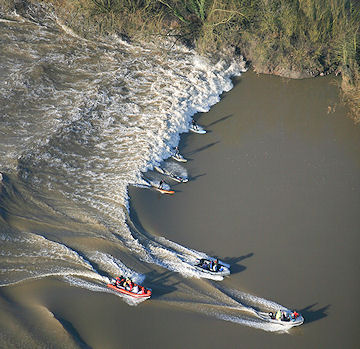 "On March 2nd we experienced a 'five star' tidal bore on the river Severn," reports photographer Jamie Cooper. "It was caused by a large spring tide combined with the funneling effect of the Severn Estuary. There was a carnival atmosphere with hundreds of spectators watching and surfers risking life and limb to ride the wave! News organizations covered the event extensively."
"This is all a result of the sun and moon, of course, so I hope it qualifies as space weather." Indeed, responds the editor, space weather reaches even into the rivers of England. Click here for more images.