| | | |
| --- | --- | --- |
| iPHONE VS ANDROID! Actually, it doesn't matter which phone you carry. Our cool, new app turns both smartphones into field-tested satellite trackers. Learn more. | | |
DEPARTING SUNSPOT, GOOD SHOW: Departing sunspot 1109 is about to begin a two-week transit of the far side of the sun. As it rounds the sun's western limb, the sunspot's magnetic canopy is on full display towering above the stellar surface. Click here for a dramatic view from the Solar Dynamics Observatory.
BIG GREEN COMET: The icy nucleus of comet 103P/Hartley 2 measures no more than a couple of kilometers across. That tiny nugget, however, is surrounded by an vast atmosphere of gas more than 150,000 km in diameter--about the same size as the planet Jupiter! And it's coming our way. Amateur astronomer Nick Howes sends this picture of the approaching comet from Cherhill, WIltshire UK: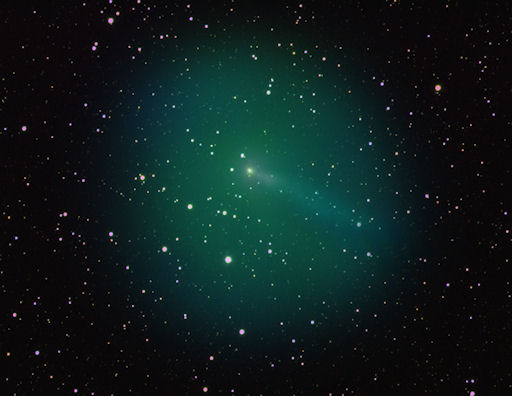 "I photographed the comet on Oct. 1st using a 4-inch refractor," says Howes. "Four hours of exposure time revealed not only the comet's vast green atmosphere but also an emerging tail." Howes describes the processing of the data here.
At present, the comet is a 7th-magnitude object best seen through telescopes. (We recommend the Comet Hunter.) The view will improve, perhaps even to naked-eye visibility, as the comet glides by Earth only 11 million miles away on Oct. 20th.
Two weeks after Comet Hartley has its close encounter with Earth, NASA will have a close encounter with the comet. The Deep Impact/EPOXI spacecraft is hurtling toward Comet Hartley now, and on Nov. 4th it will fly 435 miles from the comet's active icy nucleus. The encounter will mark only the fifth time in history that a spacecraft has been close enough to image a comet's core.
Until then, amateur astronomers can monitor the comet as it glides through the constellation Cassiopeia in the evening sky. A finder chart from Sky and Telescope shows the comet passing by a variety of stars and deep-sky objects, offering many photo-ops in the nights ahead.
more images: from Toni Scarmato of San Costantino di Briatico, Calabria, Italy; from Peter Sherman of Fochabers, Moray, Scotland, UK; from Joao Porto of Ponta Delgada, Azores, Portugal; from Mohamad Soltanolkottabi of Hunejan, Esfahan, Iran; from Artyom Novichonok of Mayhill, NM; from Tony Cook of Ripon, North Yorkshire, UK; from Dr Paolo Candy of Ci.A.O. Cimini Astronomical Observatory, Italy; from Martin McKenna of Maghera, Co. Derry, N. Ireland; from Gary Colwell of Splitrock Observatory, Ardoch, Ontario; from Gregg Ruppel of Ellisville, MO; from Toni Scarmato of San Costantino di Briatico, Calabria, Italy; from the Harford County Astronomical Society of Bel Air, Maryland
LOST AND FOUND: XSS-11 SPYSAT: On Sept. 20, 2010, amateur satellite watcher Kevin Fetter was monitoring the traffic over his home in Brockville, Canada, when a bright flash attracted his attention. "It can be seen at the beginning of this video," says Fetter. "At first I had no idea what it was." A rough orbit calculated by Fetter with refinements added by sat-tracking expert Ted Molczan suggested an intriguing possibility: Could it be long-lost military satellite XSS-11? Indeed it was. Follow-up sightings by Alberto Rango (Sept. 29) and Russell Eberst (Sept. 30) confirmed the recovery, and on Oct. 3rd Fetter video recorded the XSS-11 again. Click on the image to set the satellite in motion: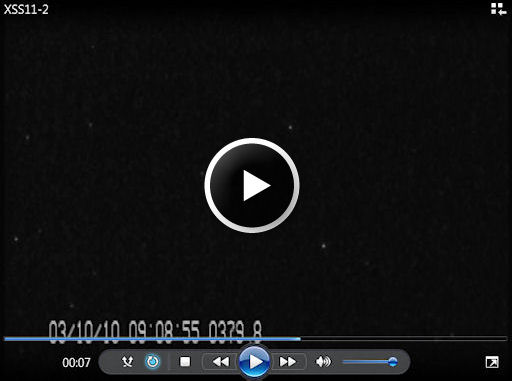 The washing-machine-sized spacecraft was launched by the US Air Force in April 2005 to demonstrate "autonomous rendezvous and proximity maneuvers." In other words, it would approach, investigate, and photograph other spacecraft in Earth orbit. The mission was controversial because it aimed to prove technologies that could be used for anti-satellite weapons.
For some 18 months in 2005 and 2006, amateur satellite watchers kept track of the XSS-11 as it visited at least two other orbiting objects: the body of the Minotaur rocket that lanched it and a military DMSP weather satellite. "XSS-11 soon completed its mission, and in December 2006, it was manoeuvred into a disposal orbit, i.e. one with a sufficiently low perigee to reduce the time to decay from centuries to decades," recalls Molczan. "The dimensions and inclination of the new orbit were made public, but without complete orbital elements, it would have been difficult to find. I expected that eventually, it would be spotted as an unknown object, which is what happened on 2010 Sep 20 UTC, when Kevin Fetter noticed something make a brief, bright flash on his monitor."
"Except for the ISS toolbag, this is the smallest satellite I have ever recorded," says Fetter. "I might not have found it except for that flash. At maximum, it was about 4th magnitude, visible to the naked eye in a good dark sky." Presumably, some flat surface on the XSS-11 is glinting in sunlight, attracting a degree of attention that belies the satellite's modest dimensions.
Stay tuned: We are adding the XSS-11 to our database and it will soon be trackable using the Simple Satellite Tracker.
---
Sept. 2010 Northern Lights Gallery
[previous Septembers: 2009, 2008, 2007, 2006, 2005, 2004, 2002, 2001, 2000]
Potentially Hazardous Asteroids (
PHAs
) are space rocks larger than approximately 100m that can come closer to Earth than 0.05 AU. None of the known PHAs is on a collision course with our planet, although astronomers are finding
new ones
all the time.
On October 4, 2010 there were
1147
potentially hazardous asteroids.
Notes: LD means "Lunar Distance." 1 LD = 384,401 km, the distance between Earth and the Moon. 1 LD also equals 0.00256 AU. MAG is the visual magnitude of the asteroid on the date of closest approach.
| | |
| --- | --- |
| | The official U.S. government space weather bureau |
| | |
| --- | --- |
| | The first place to look for information about sundogs, pillars, rainbows and related phenomena. |
| | |
| --- | --- |
| | Researchers call it a "Hubble for the sun." SDO is the most advanced solar observatory ever. |
| | |
| --- | --- |
| | 3D views of the sun from NASA's Solar and Terrestrial Relations Observatory |
| | |
| --- | --- |
| | Realtime and archival images of the Sun from SOHO. |
| | |
| --- | --- |
| | from the NOAA Space Environment Center |
| | |
| --- | --- |
| | from the National Solar Data Analysis Center |