SPACE STATION MARATHON: The International Space Station (ISS) is about to make a remarkable series of flybys over the United States. Beginning this 4th of July weekend, the station will appear once, twice, and sometimes three times a day for many days in a row. Check the Simple Satellite Tracker for flyby times.
SUDDEN SUPER SUNSPOT: Sunspot 1024 is crackling with B- and C-class solar flares. The activity is so intense, astronomers can't seem to take a picture of the sunspot without catching a flare in action. Pete Lawrence sends this example from his backyard observatory in Selsey, UK: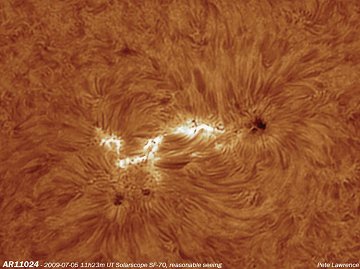 "Active region 1024 is putting on a fantastic show," says Lawrence. "The center of this region is incredibly bright and fluctuating."
Solar observers haven't seen an active region like this one in more than two years. It is big, complex, and rapidly growing: movie. The magnetic polarity of the sunspot, revealed by SOHO magnetograms, show that it is a member of new Solar Cycle 24. This makes sense: New research shows that solar jet streams are beginning to stimulate new-cycle sunspot production. Sunspot 1024 appears to be a sign of the process at work, heralding more to come. Monitoring is encouraged.
more images: from Anthony Ayiomamitis of Athens, Greece; from Didier Favre of Brétigny-sur-Orge, France; from Cai-Uso Wohler of Bispingen, Germany; from Pavol Rapavy of Observatory Rimavska Sobota, Slovakia; from Steve Wainwright of Swansea, S. Wales UK; from Jan Timmermans of Valkenswaard, The Netherlands; from Mark Townley of Brierley Hill, West Midlands, UK; from David B.V. Tyler of southern England; from Brian Woosnam of In North Wales UK; from Lecoq Etienne of Mesnil Panneville Normandy ,France; from Florin Marc of Tirgu Mures, Romania
PLANETARY FIREWORKS: Amateur astronomer Alfredo Garcia Jr didn't expect to see many stars and planets when he took his family to see the 4th of July fireworks show at Disneyland. The explosions were just too bright. But lo and behold, there was Saturn: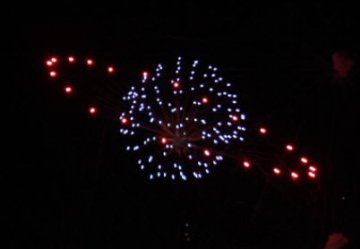 Photo details: Canon EOS KissX2, 1/30 sec, ASA 1600
"Much to my surprise, some of the fireworks made a ringed planet," says Garcia. "It reminded me so much of Saturn, that I plan to take a look at the planet tonight through my telescope." Readers who feel the same way may find Saturn--the real one--in the constellation Leo. Look west after sunset: sky map.
---
UPDATED: 2009 Sarychev Sunset Gallery
[See also: 2008 Kasatochi Sunset Photo Gallery]
---
2009 Noctilucent Photo Gallery
[previous years: 2008, 2007, 2006, 2005, 2004, 2003]
---