SPACE STATION MARATHON: This week, the International Space Station is making a remarkable series of flybys over the United States. It's a veritable marathon. Once, twice and sometimes three times a day, people can see the massive outpost cutting across the starry sky. Check the Simple Satellite Tracker for flyby times.
SUDDEN SUNSPOT: What a difference 48 hours can make. Only two days ago the sun was blank and calm, displaying the sort of unrelenting quiet we've come to expect from the deepest solar minimum in a century. Then, with startling rapidity, sunspot 1024 burst onto the scene: movie. Unlike other recent "sun-specks", this active region is a full-fledged sunspot group with more than a dozen planet-sized dark cores, crackling with B- and C-class solar flares.
"Sunspot 1024 is putting on a spectacular show," says amateur astronomer David Tyler of Buckinghamshire UK, who caught it in mid-flare on July 5th: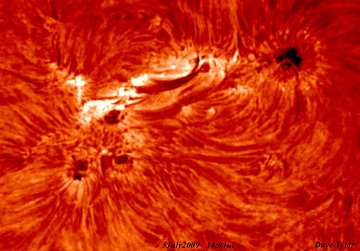 "This is the best sunspot I've seen in two years," agrees Michael Buxton of Ocean Beach, California. "Here is a one-hour time lapse movie of activity in the sunspot's core. It is exciting to watch."
The magnetic polarity of sunspot 1024 identifies it as a member of new Solar Cycle 24. That makes sense. New research shows that solar jet streams are beginning to stimulate new-cycle sunspot production. Sunspot 1024 appears to be a sign of the process at work, heralding more to come. Monitoring is encouraged.
more images: from Stefano Sello of Pisa, Italy; from Therese van Nieuwenhoven of Laukvik, Lofoten islands, Norway; from Pete Lawrence of Selsey, West Sussex, UK; from T. Emerson and J. Stetson of South Portland, Maine; from Pavol Rapavy of Observatory Rimavska Sobota, Slovakia; from Britta Suhre of Dortmund, Germany; from Deirdre Kelleghan of Bray, Co Wicklow Ireland; from Roman Vanur of Nitra, Slovakia; from Ehsan Rostamizadeh of Kerman, Iran; from Leslie Marczi of Welland, Ontario, Canada; from Rolando De Michiel of Bonnet Bay, Sydney, Australia
PALE BLUE SUN: For the third day in a row, citizens of Iran are finding themselves in a fog of blowing sand and dust. "A huge sandstorm hit Tehran yesterday," reports Farzad Zamanfar. "To my amazement, this caused the sun to turn blue." He photographed the phenomenon using his Canon 5D:
Yes, dust storms can turn the sun blue. It happens when the storm contains many particles about 1 micron (millionth of a meter) in diameter. This is just the right size to make the cloud of dust act as a blue color filter. Dust can cloud the night sky, too. Iranian sky watchers should be alert for blue Moons after sunset.
more images: from Mohamad Soltanolkottabi of Esfahan, Iran
---
2009 Sarychev Sunset Gallery
[See also: 2008 Kasatochi Sunset Photo Gallery]
---
2009 Noctilucent Photo Gallery
[previous years: 2008, 2007, 2006, 2005, 2004, 2003]
---