| | | |
| --- | --- | --- |
| NEW AND IMPROVED: Turn your iPhone or iPod Touch into a field-tested global satellite tracker. The Satellite Flybys app now works in all countries. | | |
QUIET SUN: All the spots on the Earth-facing side of the sun are fading away. The sun is quiet and the chance of an Earth-directed solar flare this weekend is very low.
BE ALERT FOR ZODIACAL LIGHT: If you live in the northern hemisphere, now is the time to look for the Zodiacal Light. It jumps up in the west after sunset, a luminous triangle that can amaze observers in dark rural areas. Rob Ratkowski sends this picture from atop the Haleakala volcano in Maui: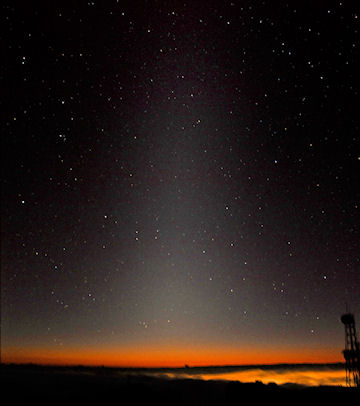 "We've had many visitors to our high observing site who have never seen the Zodiacal Light before and are surprised to see how bright it really is," says Ratkowski, who sometimes likens it to "light pollution."
The phenonenon is caused by sunlight shining on billions of tiny dust particles scattered throughout the plane of our solar system. The tilt of the sky favors evening sightings in the weeks of late winter and early spring--in other words, now! For best results, get away from city lights. Find a place with a clear western horizon. Let your eyes adapt to the darkness after sunset and prepare to be amazed.
more images: from Steve Cullen of Rodeo, New Mexico;
AROUND THE SUN: Have you ever seen a luminous ring around the sun and felt you'd witnessed something rare and beautiful? You were only half right. Sun halos are beautiful, but not rare. "[They] are visible much more often than rainbows, once or twice a week on average," according to atmospheric optics expert Les Cowley. "The key to finding them is shielding the eyes from excessive glare."
For that purpose, a statute works nicely: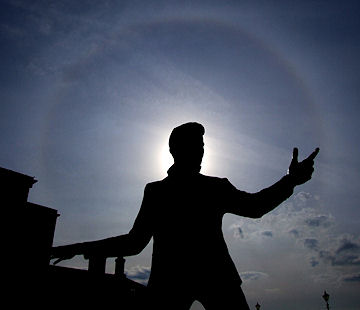 "I was walking along the waterfront on March 3rd when I spotted this nice 22o ice halo around the sun," says Vincent Phillips of Liverpool, UK. "I used one of the waterfront statues of Billy Fury to block the bright sun and take this picture."
The display was caused by sunlight shining through six-sided ice crystals in high cirrus clouds. Readers, the next time icy clouds drift across your sun, stand in the shadow of a statue and look up. No statues? Browse the links below for substitutes.
more images: from M. Raşid Tuğral of Ankara Turkiye; from Rob Driessen of Maastricht, the Netherlands; from Eddy Decorte of Ostend Belgium;
---
March Northern Lights Gallery
[previous Marches: 2009, 2008, 2007, 2006, 2005, 2004, 2003]