| | | |
| --- | --- | --- |
| NEW AND IMPROVED: Turn your iPhone or iPod Touch into a field-tested global satellite tracker. The Satellite Flybys app now works in all countries. | | |
FARSIDE ACTION: Today, the most active part of the sun is not visible from Earth. Sunspot complex 1052-1053 continues to spit CMEs into space from its location behind the sun's western limb. These farside eruptions pose no threat to our planet.
PLANETS AT NOON: Jupiter and Mercury are converging for a remarkable conjunction. On March 7th the two bright planets will be only a little more than 1o apart. It would be a beautiful sight, except for one thing. The event is happening at high noon in close proximity to the blinding sun: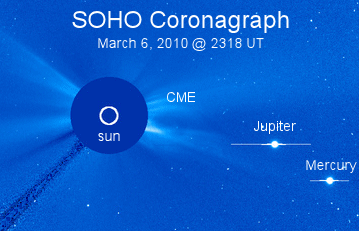 Human eyes cannot see the conjunction, but the Solar and Heliospheric Observtory (SOHO) can. Using a disk to block the glare, SOHO's coronagraph reveals planets, stars and coronal mass ejections (CMEs) in the immediate vicinity of the sun. Today's movie shows Mercury and Jupiter converging as a CME from sunspot complex 1052-1053 billows across the field of view. It's a good show. Join SOHO for a ringside seat.
SOLAR FILAMENTS: Today, amateur astronomers around the world are monitoring a pair of enormous magnetic filaments on the sun. Rogerio Marcon sends this composite image from his backyard observatory in Campinas, Brasil: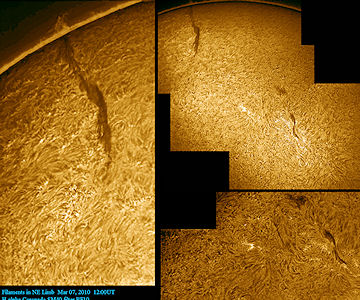 The largest of the filaments, which is curling over the sun's northeastern limb, stretches at least 50,000 km from end to end. If it collapses and hits the stellar surface, the impact could produce a powerful Hyder flare. Readers with solar telescopes are encouraged to monitor developments.
more images: from Bavais Joel of Ath, Belgium; from Alan Friedman of downtown Buffalo, NY; from Brian Woosnam of North Wales UK; from Cai-Uso Wohler of Bispingen, Germany; from S. Barube and J. Stetson of S.Portland, Maine; from Greg Piepol of Rockville, Md; from David Gradwell of Ner Birr Ireland;
---
March Northern Lights Gallery
[previous Marches: 2009, 2008, 2007, 2006, 2005, 2004, 2003]