| | | |
| --- | --- | --- |
| They came from outer space--and you can have one! Genuine meteorites are now on sale in the Space Weather Store. | | |
RING OF FIRE SOLAR ECLIPSE: On May 9-10, the Moon will pass directly in front of the sun over the South Pacific, producing a "ring of fire" solar eclipse. At greatest eclipse, 98% of the sun's surface will be covered. The Coca-Cola Space Science Center is hosting a live webcast of the event from Australia! Tune in on May 9th beginning at 5 pm EDT. More: animation, map, details.
GENTLE SOLAR WIND, DEEP-SKY AURORAS: A solar wind stream continues to buffet Earth's magnetic field on May 8th. The force of the buffeting is not enough to cause a full-fledged geomagnetic storm, but it has ignited faint auroras at high latitudes. Practically invisible to the human eye, these "deep-sky" auroras are nevertheless a beautiful sight when properly exposed using a digital camera. Last night, Shawn Malone of Marquette, Michigan, took this picture overlooking Lake Superior: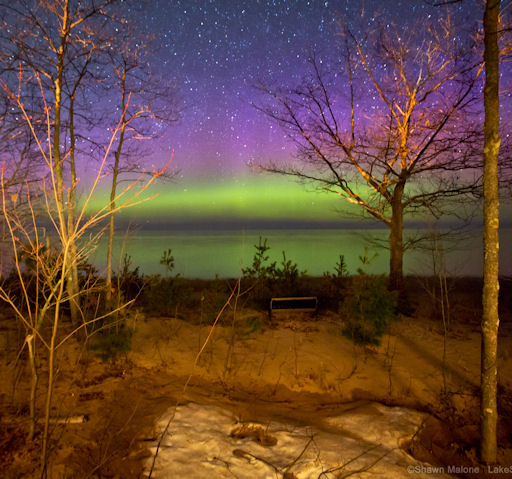 "This is just a quick photo off the back deck," says Malone. "On May 7th, we had a beautiful starry moonless night and a nice auroral glow on the horizon. The colors were undetectable to the human eye, but the camera picked them up easily."
Malone is a veteran photographer of auroras, and her back deck is a great place to watch the northern sky. She recently compiled a time-lapse video of the Northern Light. "I've been working on it for more than a year," she says. "Watch the video here." Auroras alerts: text, voice.
METEORS FROM HALLEY'S COMET: On May 5th and 6th, Earth passed through a stream of debris from Halley's Comet, source of the annual eta Aquarid meteor shower. At its peak, the shower produced more than 100 meteors per hour, mainly over the southern hemisphere. Stephen Voss sends this picture from Otago Harbour Entrance in Dunedin, New Zealand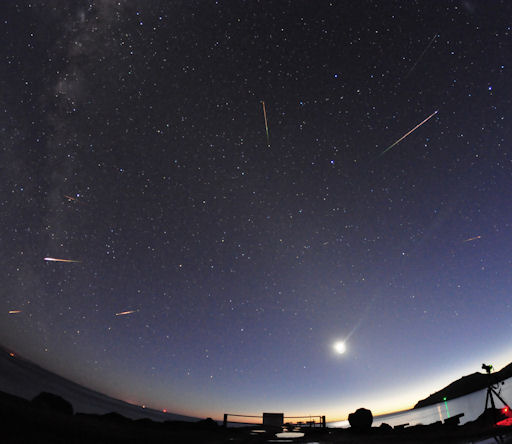 "I stacked multiple frames to create this pre-dawn image," says Voss. "It shows at least seven eta Aquarids."
The peak has passed but the show is not over. Earth is still in the outskirts of Halley's debris stream. Flakes of comet dust hitting our planet's upper atmosphere at 66 km/s (150,000 mph) should produce a waning drizzle of 10 to 15 meteors per hour for several days to come. Listen to the meteor radar for echoes.
MOOOO-VING UP--EDGE OF SPACE ADVERTISING: To fund space weather experiments in the stratosphere, science students in Bishop, California, have started a new business: Edge of Space Advertising. For a fee, they'll fly ad banners, shoes, US presidents--you name it!--to the edge of space. On April 22nd (Earth Day), they launched a cow: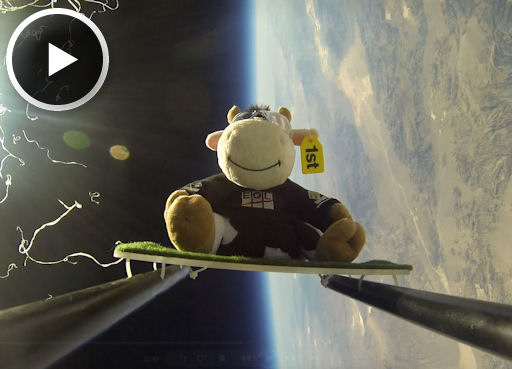 This is EVA, the mascot of New Zealand Internet service provider EOL. Last month, she traveled from Tauranga, New Zealand, to an Edge-of-Space Port in the Sierra Nevada mountains of California. There, students attached EVA to the payload of a helium balloon and launched her to the stratosphere 120,000 feet above Earth's surface. Along the way she experienced temperatures as low as -65o C and air pressures only 1% of sea level--much like conditions on the planet Mars. At the end of the 3-hour flight, the balloon popped and EVA parachuted back to Earth, touching down in a remote corner of Death Valley. GPS signals led the students to the landing site, where they recovered EVA covered with desert dust but still smiling.
The name of the student group is "Earth to Sky Calculus." Mentored by Dr. Tony Phillips of spaceweather.com, they are actively exploring the stratosphere--measuring the effect of solar flares on the ozone layer, capturing high-altitude bacteria, and photographing meteor showers. The profits are going to a good cause.
EVA's flight to the stratosphere and the student's recovery expedition through Death Valley has generated a flurry of news coverage for EOL in New Zealand. In short, Edge of Space Advertising really works. Interested? Contact Dr. Tony Phillips for rates and details.
Realtime Space Weather Photo Gallery
---
---
---
Realtime Noctilucent Cloud Photo Gallery
[previous years: 2003, 2004, 2005, 2006, 2007, 2008, 2009, 2011]