| | | |
| --- | --- | --- |
| Listen to radar echoes from satellites and meteors, live on listener-supported Space Weather Radio. | | |
DRACONID METEOR OUTBURST IS SUBSIDING: An outburst of more than 1000 meteors per hour on Oct. 8th is subsiding now. The Canadian Meteor Orbit Radar (CMOR) detected the surge in activity around 16:00 UT as Earth was passing through a network of debris streams from comet 21P/Giacobini-Zinner, source of the annual Draconid meteor shower. The outburst appears to have been caused by a filament of comet dust shed by Giacobini-Zinner in the year 1959. "This event follows in the grand tradition of short, intense Draconid outbursts," says Bill Cooke of NASA's Meteoroid Environment Office. Visual reports of the outburst are sparse, which suggests it was faint--i.e, better seen by a radar than by the human eye. Stay tuned for updates. [CMOR radar data] [sky map] [Submit: reports or photos]
CME HITS EARTH'S MAGNETIC FIELD, SPARKS AURORAS: As expected, a coronal mass ejection (CME) hit Earth's magnetic field on Oct. 8th at approximately 0500 UT. The impact sparked a moderate (Kp=6) geomagnetic storm and Northern Lights in the USA as far south as Kansas, Utah and Colorado. In New Auburn, Wisconsin, photographer Justin Phillips recorded this rare self-portrait backlit by auroras: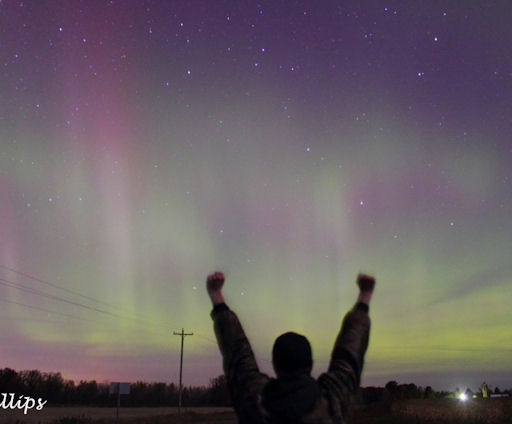 "I went outside at 3:30 am and caught the peak of the storm," he says. "It was maybe the best show I've ever seen."
Although the storm is subsiding, high-latitude sky watchers should remain alert for auroras as Earth's magnetic field continues to reverberate from the CME strike. Aurora alerts: text, voice.
SOLAR FLARE: This morning, Oct. 8th at 1117 UT, a solar flare erupted on the northeastern edge of the sun's disk. NASA's Solar Dynamics Observatory recorded the extreme ultraviolet flash: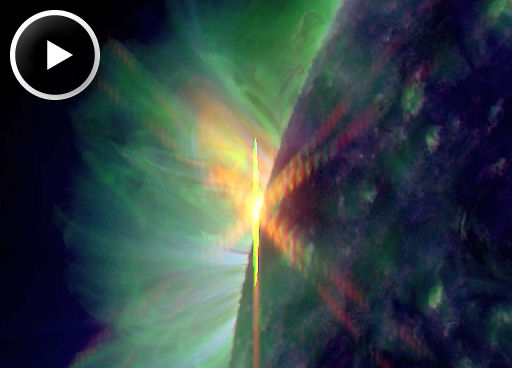 The explosion heralds the arrival of a farside active region, which will turn toward Earth later this week. Amateur astronomers with solar telescopes should train their optics on the NE limb, and stay tuned for action.
Realtime Space Weather Photo Gallery
AURORAS AND DINOFLAGELLATES: On Oct 7th, Frank Olsen went to the beach outside Sortland, Norway to photograph the colors of aurora borealis in the sky. He also found some strange colors at his feet. The beach was aglow with bioluminescent dinoflagellates: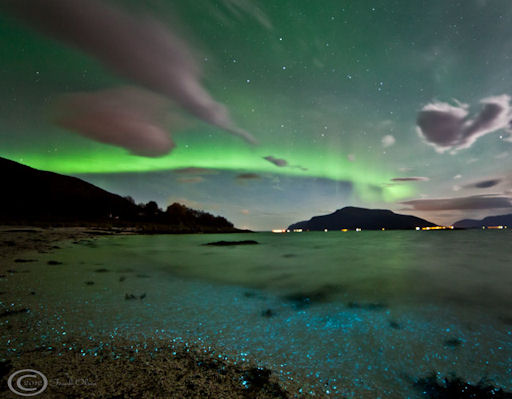 "I was photographing the auroras when the Noctilucales washed up on the beach," says Olsen. "The moonlight was a nice bonus."
There is an interesting link between the auroras and the dinoflagellates. Both use oxygen to create their glow. In the case of the marine organism, a chemical pigment (luciferin) reacts with oxygen to create light. Meanwhile up in the sky, charged particles from the solar wind rain down on the atmosphere, colliding with oxygen molecules to create the telltale green hue of auroras.
---
Realtime Noctilucent Cloud Photo Gallery
[previous years: 2003, 2004, 2005, 2006, 2007, 2008, 2009, 2011]