| | | |
| --- | --- | --- |
| NEW AND IMPROVED: Turn your iPhone or iPod Touch into a field-tested global satellite tracker. The Satellite Flybys app now works in all countries. | | |
THE MYSTERY OF PHOBOS: Something is wrong with Phobos. The martian moon looks like a solid, but it is not as dense as a rocky solid should be. Some researchers think Phobos might be riddled with vast caverns; others say it is just a "rubble pile" masquerading as a solid body. To solve the mystery, Europe's Mars Express spacecraft is making a series of close Phobos-flybys this month. March 10th update: According to gravity-field data just beamed back from Mars Express, mass is not evenly distributed throughout the moon's interior. A detailed analysis is underway by ESA researchers. Stay tuned!
SOLAR ERUPTION: Magnetic fields around the corpse of old sunspot 1045 erupted this morning, March 10th, at 0745 UT. SOHO's extreme ultraviolet telescope recorded the action, which you can see by clicking on the image below:
The eruption did not produce a lot of X-rays (the corresponding flare registered only B1), but it did hurl a billion-ton coronal mass ejection (CME) into space. The cloud is not aimed directly at Earth, but it could deliver a glancing blow to our planet's magnetic field on or about March 13th. High-latitude sky watchers should be alert for auroras around that date.
IDITAROD SKIES: This week, hundreds of the world's finest athletes are racing 1,150+ miles across some of most extreme and beautiful terrain in the world--the Iditarod trail of Alaska. If any of those sled dogs raise their blue eyes to the sky, they might see something like this: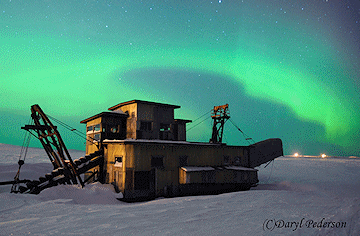 Daryl Peterson took the picture on March 21, 2009. "I went to Nome last year to shoot the finish of the Iditarod," he recalls. "During the race you can almost bank on seeing some Northern Lights, even when solar activity is low."
He's right. On average, March is the most geomagnetically active month of the year; October is a close second (histogram). The reason is not fully understood, but it has something to do with the orientation of Earth's axes and the sun's magnetic field around the time of the equinoxes. The Iditarod takes place smack-dog in the middle of aurora season.
Now, if only huskies could operate a camera....
March Northern Lights Gallery
[previous Marches: 2009, 2008, 2007, 2006, 2005, 2004, 2003]