| | | |
| --- | --- | --- |
| NEW AND IMPROVED: Turn your iPhone or iPod Touch into a field-tested global satellite tracker. The Satellite Flybys app now works in all countries. | | |
THE MYSTERY OF PHOBOS: Something is wrong with Phobos. The martian moon looks like a solid, but it is not as dense as a rocky solid should be. Some researchers think Phobos might be riddled with vast caverns; others say it is just a "rubble pile" masquerading as a solid body. To solve the mystery, Europe's Mars Express spacecraft is making a series of close Phobos-flybys this month. High-res photos could be available as early as this Wednesday. Stay tuned!
DARK FILAMENT: For the 4th day in a row, the Solar and Heliospheric Observatory (SOHO) is tracking a dark magnetic filament curling over the sun's northeastern limb. Click on the image to launch a movie recorded by the observatory's extreme ultraviolet telescope: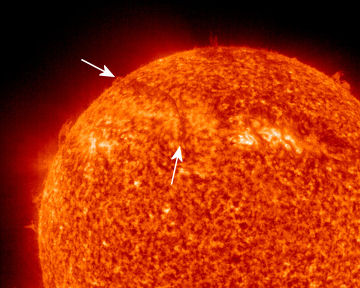 The massive, plasma-filled filament has been remarkably stable since SOHO first spotted it on March 5th. However, filaments like this have been known to collapse. If this one does and hits the stellar surface, the impact could produce a powerful Hyder flare. Readers with solar telescopes are encouraged to monitor developments.
more images: from Robert Arnold of Isle of Skye, Scotland; from Peter Paice of Belfast, Northern Ireland; from Mike Borman of Evansville, Indiana; from David Gradwell of Near Birr Ireland; from Malcolm Park of London UK; from James Kevin Ty of Manila , Philippines; from Stephen Ames of Hodgenville, KY; from Davide Cirioni of Cilavegna, Italy; from Fabio Mariuzza of Biauzzo - Italy; from Bavais Joel of Ath, Belgium;
SOLAR TRANSIT: The sun is blank--no sunspots. That makes it much easier to pick out the spaceships. On March 7th, Leonardo Julio of Buenos Aires, Argentina, watched the silhouette of the International Space Station zip across the featureless solar disk: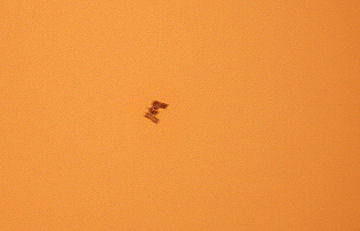 Click to view the full solar disk
"The ISS crossed the entire solar disk in only 0.5 seconds," says Julio. "I captured the split-second transit using a solar-filtered Meade LX-90 8-inch telescope and a Canon EOS 40D digital camera (1/1600 sec, ISO-1600)."
The ISS is easier to see in the night sky where the glare of the sun is absent and the super-bright spaceship spends a leisurely five minutes gliding from horizon to horizon. Check the Simple Satellite Tracker for flybys of your home town. And don't forget, there's an app for that, too.
more ISS images: from Pawel Warchal of Krakow, Poland; from Jo Smeets of Maastricht Netherlands; from Max Bittle of Concord, New Hampshire
---