The space station is visible in the night sky this month. Would you like to see it? Sign up for Spaceweather PHONE.
WORM MOON: According to folklore, this week's full moon is the Worm Moon. It heralds warm Spring days, thawing ground, robins and earthworms. On Tuesday night, you might behold a rare "Eclipse of the Worm Moon." Details below...
LUNAR ECLIPSE: When the full moon rises on Tuesday evening, March 14th, you might notice something odd--a pale shadow darkening the moon's southern hemisphere. That is the shadow of Earth, and if you can see it, you've spotted a penumbral lunar eclipse.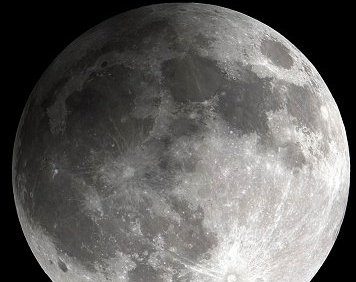 A penumbral eclipse. Photo credit: Matt Wastell of Brisbane, Australia. April 24, 2005.
Penumbral eclipses are not as dramatic as total eclipses. A penumbral eclipse involves only the pale fringe of Earth's shadow while a total eclipse happens in the shadow's dark red core. Both are fun to observe. Galleries: penumbral vs. total.
Maximum eclipse occurs between 6:18 p.m. and 7:18 p.m. EST on March 14th (14/2318 UT and 15/0018 UT). Observers in Europe, Africa and eastern parts of North America are favored; the eclipse will not be visible from California and other western US states: visibility map.
EXTRA: Watch an animation of the eclipse created by graphic artist Larry Koehn.
BLUE SUN: For the second time this year, a blue sun has appeared over Egypt. "A powerful khamaseen dust storm swept through Alexandria on March 7th," reports astronomer Aymen Ibrahem of the Bibliotheca Alexandrina. "The sun shining through the dust turned blue."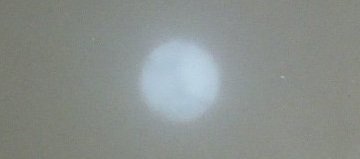 The Egyptian sun on March 7th. Photo credit: Aymen Ibrahem.
Blue suns occur when the air fills with particles just a little larger than the wavelength of light. This makes the air behave like a filter, scattering red while allowing blue to pass. For maximum blue, the particles should all be very close to the same size--about a millionth of a meter across. Khamaseen storms are notorious for such fine dust. The spring dusty season is just beginning in Egypt. Sky watchers there should be alert for more blue suns--and blue moons, too.