The space station is visible in the night sky this month. Would you like to see it? Sign up for Spaceweather PHONE.
WORM MOON: According to folklore, tonight's full moon is the Worm Moon. It heralds warm Spring days, thawing ground, robins and earthworms. If you're located in the eastern USA, you might behold a rare "Eclipse of the Worm Moon." Details below...
LUNAR ECLIPSE: When the full moon rises tonight, March 14th, look for a pale shadow darkening the moon's southern hemisphere. That is the shadow of Earth, and if you can see it, you've spotted a penumbral lunar eclipse.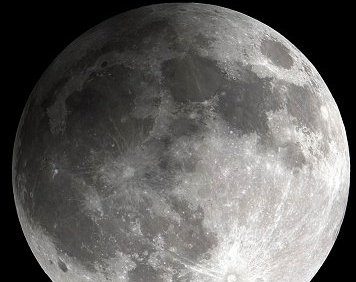 A penumbral eclipse. Photo credit: Matt Wastell of Brisbane, Australia. April 24, 2005.
Penumbral eclipses are not as dramatic as total eclipses. A penumbral eclipse involves only the pale fringe of Earth's shadow while a total eclipse happens in the shadow's dark red core. Both are fun to observe. Galleries: penumbral vs. total.
Maximum eclipse occurs between 6:18 p.m. and 7:18 p.m. EST on March 14th (14/2318 UT and 15/0018 UT). Observers in Europe, Africa and eastern parts of North America are favored; the eclipse will not be visible from California and other western US states: visibility map.
EXTRA: Watch an animation of the eclipse created by graphic artist Larry Koehn.
JUPITER MOVIE: They call Jupiter the "giant planet" for a reason: It's so big, 11 times wider than Earth, that you can see fantastic details through an ordinary backyard telescope. On March 12th, Mike Salway of Brisbane, Australia, made this 90-minute movie using a 10-inch telescope and a CCD video camera:

Click on the image to see the rest of Jupiter.
Dominating the scene is the Great Red Spot, the biggest storm in the solar system; two planet Earths could fit inside with room to spare. Can you also see Jupiter's newest red spot, Red Jr? It pops over the planet's limb near the end of the movie.
If you would like to see Jupiter for yourself, wake up before dawn and look south. Jupiter is the brightest "star" in that part of the sky. You can't miss it.
more images: from Chotechai Piyavongsiri of Bangkok, Thailand (note the shadow of Europa on Jupiter's cloudtops).