| | | |
| --- | --- | --- |
| SATELLITE FLYBYS APP: Turn your iPhone or iPod into a field-tested satellite tracker! Spaceweather.com presents the Satellite Flybys app. | | |
SUNSET TRIANGLE: When the sun sets on Valentine's Day, grab your binoculars and dash outside. Jupiter, Venus and an unbelievably slender crescent Moon are converging to form a triangle in the glow of sunset. Scan the western horizon for a beautiful view: sky map.
PARTING SHOTS: This morning, Feb. 14th, one and possibly two coronal mass ejections (CMEs) billowed over the sun's western limb. Click on the image to set the clouds in motion: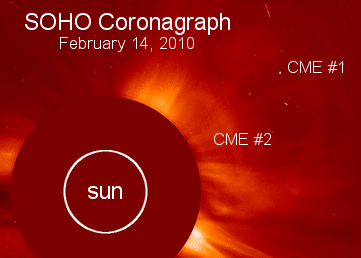 The source of the blasts appears to be a complex of sunspots (1045 and 1048) just now disappearing over the western limb. If so, NASA's STEREO Ahead spacecraft would have had a direct view of the double eruption, but the blast occured during a gap in data-taking, so head-on movies are not available. The CMEs were not directed at Earth, so our planet should feel no effects from the expanding clouds.
EXTRA: Rogerio Marcon of Campinas, Brasil, observed another spectacular eruption from the same region at approximately 1140 UT on Feb. 14th: image.
more images: from Dennis Simmons of Brisbane, Qld, Australia; from John C McConnell of Maghaberry Northern Ireland; from Matt Wastell of Brisbane, Australia; from Stefano Sello of Pisa, Italy; from Divyadarshan D. Purohit of Vadodara, Gujarat, India; from Terje Isberg of Biberstein, Switzerland; from Peter Paice of Belfast, Northern Ireland;
AURORA WATCH: High-latitude sky watchers should be alert for auroras on Feb. 14th and 15th. That's when a solar wind stream flowing from a coronal hole on the sun is expected to reach Earth. The scene on Valentine's Night could look like this: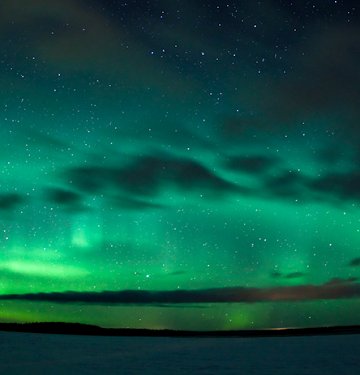 Zoltan Kenwell took the picture on Feb. 11th from the banks of the Athabasca River in Alberta, Canada. "I used a Canon 5D2 set at ISO 1000 for 10 seconds," he says. "The auroras were very active."
NOAA forecasters estimate a 30% to 35% chance of minor geomagnetic storming during the late hours of Feb. 14th and 15th. The activity could descend to northern-tier US states such as Minnesota and Wisconsin. Alaska, Canada and Scandinavia are better bets, however. Browse the gallery for a preview:
February Northern Lights Gallery
[previous Februarys: 2009, 2008, 2007, 2006, 2004, 2003, 2002]