| | | |
| --- | --- | --- |
| SATELLITE FLYBYS APP: Turn your iPhone or iPod into a field-tested satellite tracker! Spaceweather.com presents the Satellite Flybys app. | | |
SUNSET SKY SHOW: Tonight, about 15 minutes after sunset, go outside and look west. You'll find an exquisitely-slender crescent Moon hovering just above the horizon. Point your finger at the Moon and trace a line down, down, down--voila! It's Jupiter and Venus. The two brightest planets are converging for a conjunction deep in the glow of the setting sun. Find them if you can: sky map.
sunset shots: from David Harvey of Tucson, Arizona; from Robert Schalck of North Bend, Oregon
VALENTINE'S BLAST: Yesterday, Feb. 14th, extra-long sunspot 1045 rotated over the sun's western limb. En route to the farside, it blasted a cloud of plasma off the stellar surface. Amateur astronomer Rogerio Marcon of Campinas, Brasil, recorded the eruption:
"It was spectacular," says Marcon. "I made a movie of the event using my Coronado SolarMax40."
The Solar and Heliospheric Observatory (SOHO) also observed a series of coronal mass ejections billowing over the western limb on Valentine's Day: snapshot. These events signal an uptick in solar activity on the farside of the sun. NASA's twin STEREO spacecraft are in position to monitor events there, so stay tuned.
more images: from Cai-Uso Wohler of Bispingen, Germany; from Rogerio Marcon of Campinas, Brasil; from Steve Riegel of Santa Maria, CA; from Peter Paice of Belfast, Northern Ireland; from Steve Wainwright of Gower South Wales UK
CIRCULAR SUNBEAMS: One month ago in Kenya, Africa, something strange happened to the rays of the sun lancing through trees. They all turned into little circles! Janos Pelikan recorded the phenomenon displayed on the back of his own wife in Lake Nakuru National Park: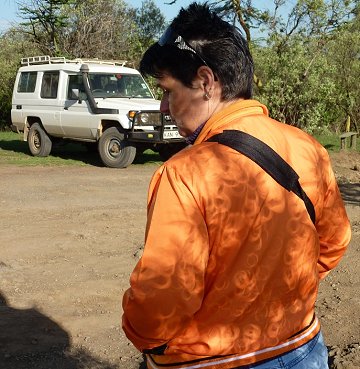 It was an annular solar eclipse. On January 15th, the Moon passed directly in front of the African sun, producing a "ring of fire" in the sky and circular sunbeams on the ground. "The sunbeams were my favorite part!" says Pelikan.
The path of annularity stretched from Africa across the Indian Ocean to Sri Lanka, Burma and finally China. Similar scenes were recorded in all those places. Sunbeams won't form a circle again until May 2012 when the next annular eclipse is due. Until then, browse the gallery:
Solar Eclipse Photo Gallery
[eclipse alerts] [solar telescopes]
---
February Northern Lights Gallery
[previous Februarys: 2009, 2008, 2007, 2006, 2004, 2003, 2002]