| | | |
| --- | --- | --- |
| Lights Over Lapland is excited to announce that we now have TWO aurora webcams covering nearly a 200° view of Abisko National Park in Sweden! Watch the auroras dance live, all season long here. | | |
HAPPY PI DAY: March 14th (3.14) is

day, and all around the world pi-philes are celebrating one of the most compelling and mysterious constants of Nature. Pi appears in equations describing the orbits of planets, the colors of auroras, the structure of DNA. The value of

is woven into the fabric of life, the universe and ... everything.
Humans have struggled to calculate

for thousands of years. Divide the circumference of a circle by its diameter; the ratio is

. Sounds simple, but the devil is in the digits. While the value of

is finite (a smidgen more than 3), the decimal number is infinitely long:
3.1415926535897932384626433832795
02884197169399375105820974944592307
81640628620899862803482534211706...more
Supercomputers have succeeded in calculating more than 2700 billion digits and they're still crunching. The weirdest way to compute

: throw toothpicks at a table or frozen hot dogs on the floor. Party time.
A GASH IN THE SUN'S ATMOSPHERE: A canyon-like hole has opened in the sun's atmosphere, and it is spewing a broad stream of solar wind toward Earth. NASA's Solar Dynamics Observatory is monitoring the structure, shown here on March 13th: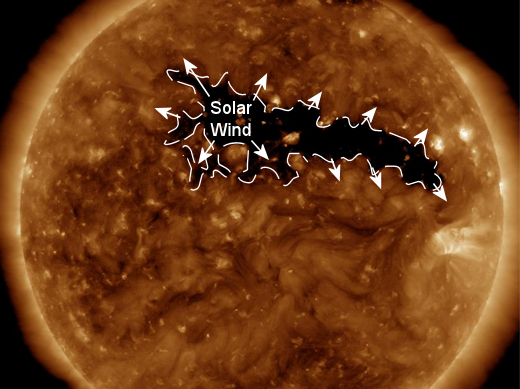 This is a "coronal hole"--a region where the sun's magnetic field opens up and allows solar wind to escape. Coronal holes appear, in various shapes and forms, several times each month. This one is unusually wide, stretching more than 800,000 km across the face of the sun.

NOAA forecasters say there is a 55% chance of G1-class geomagnetic storms when the solar wind stream arrives on March 14th or 15th. G1-class storms are relatively minor and have little effect on satellites and global power grids. However, they can disorient animals that migrate using magnetic cues at high latitudes and usually spark bright auroras around the Arctic Circle. Free: Aurora Alerts
Realtime Space Weather Photo Gallery
WILD RIDE OF THE EASTERNAUTS: Easter is coming early this year: April 1, 2018--hence the flight of the Easternauts. To support their cosmic ray ballooning program, the students of Earth to Sky Calculus have launched a payload full of bunnies to the edge of space: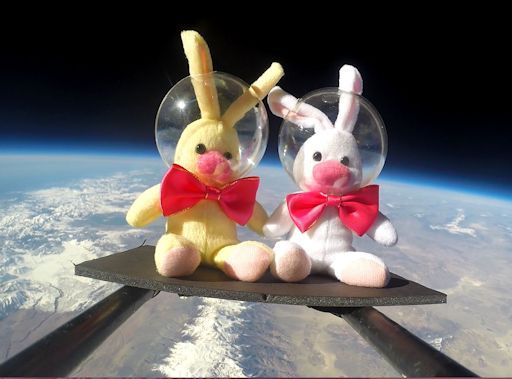 You can have one for $49.95. (Space helmet included!) They make great Easter gifts for young scientists, and all proceeds support STEM education. Each bunny comes with a greeting card showing the Easternaut in flight and telling the story of its journey to the stratosphere and back again.
Far Out Gifts: Earth to Sky Store
All proceeds support hands-on STEM education
POLLEN CORONA: It begins with a sneeze. Pollen floating through the air tickles your nose, and your body responds by expelling the allergen. Gesundheit! When the paroxysm subsides, look up at the sky. The same pollen that makes you sneeze can also make colorful coronas around the sun, like this one photographed on March 12th by Monika Landy-Gyebnar of Veszprem, Hungary: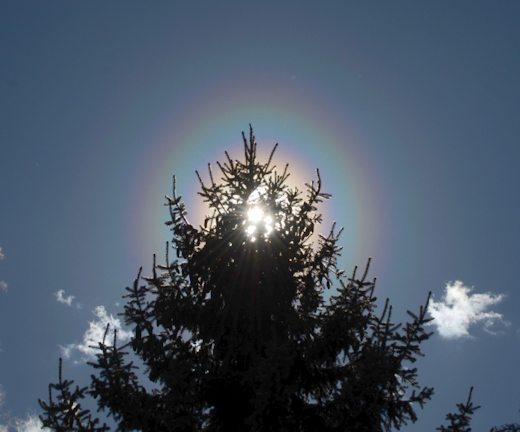 "As spring approaches, many of our local trees are beginning to bloom--including hazel, alder, willow and birch," says Landy-Gyebnar. "The day was warm and windy, which always helps the pollens get suspended in the air."
Coronas are rings of light produced by sunlight scattering from the outsides of small particles--in this case, pollens. Tiny droplets of water in clouds can make coronas, too, but pollen grains do even better. They make small but very colorful rings of light.
Unlike water droplets, pollens are non-spherical--and this adds to their magic. Many pollens have air sacs to help carry them in the wind. These align the grains so that their coronas are elliptical. This effect may be seen in Landy-Gyebnar's coronas, which are taller than they are wide.
Every night, a network of
NASA all-sky cameras
scans the skies above the United States for meteoritic fireballs. Automated software maintained by NASA's Meteoroid Environment Office calculates their orbits, velocity, penetration depth in Earth's atmosphere and many other characteristics. Daily results are presented here on Spaceweather.com.
On Mar. 14, 2018, the network reported 8 fireballs.
(8 sporadics)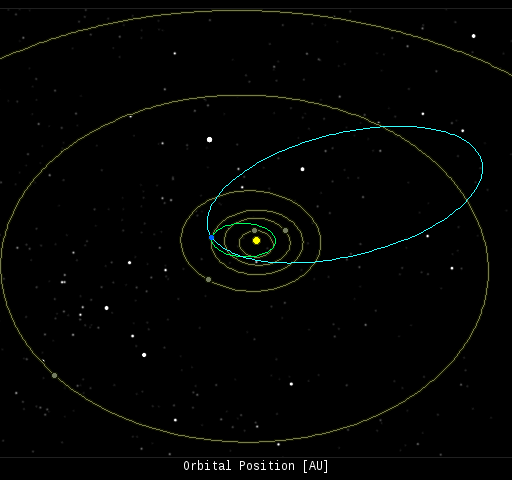 In this diagram of the inner solar system, all of the fireball orbits intersect at a single point--Earth. The orbits are color-coded by velocity, from slow (red) to fast (blue). [Larger image] [movies]
Potentially Hazardous Asteroids (
PHAs
) are space rocks larger than approximately 100m that can come closer to Earth than 0.05 AU. None of the known PHAs is on a collision course with our planet, although astronomers are finding
new ones
all the time.
On March 14, 2018 there were
1882
potentially hazardous asteroids.

Recent & Upcoming Earth-asteroid encounters:
Asteroid

Date(UT)

Miss Distance

Velocity (km/s)

Diameter (m)

2018 BK7

2018-Mar-09

10.2 LD

8.7

74

2018 EF4

2018-Mar-09

5 LD

5.7

21

2015 DK200

2018-Mar-10

7 LD

8

27

2018 DY3

2018-Mar-11

5.3 LD

8

21

2018 EF1

2018-Mar-12

11.5 LD

8.8

50

2018 EX

2018-Mar-12

12.5 LD

2.9

14

2018 EZ2

2018-Mar-14

0.6 LD

9.5

18

2018 EU1

2018-Mar-14

13.5 LD

11.8

16

2018 EU2

2018-Mar-14

10.1 LD

11.3

19

2018 EH

2018-Mar-15

9.2 LD

11

49

2018 EB4

2018-Mar-16

1.5 LD

12.9

29

2018 ET1

2018-Mar-18

4.4 LD

6

19

2018 EC1

2018-Mar-18

12.6 LD

8.7

20

2018 EV1

2018-Mar-22

7.7 LD

11.2

29

2018 DH1

2018-Mar-27

9.2 LD

14.4

224

2016 SR2

2018-Mar-28

18.7 LD

7.3

20

2010 GD35

2018-Mar-31

15.5 LD

11.6

45

2004 FG29

2018-Apr-02

4 LD

14.9

22

2018 ER1

2018-Apr-02

15.5 LD

4

26

2018 EB

2018-Apr-04

10.4 LD

15.1

164

363599

2018-Apr-12

19.3 LD

24.5

224

2014 UR

2018-Apr-14

9.3 LD

4.4

17

2016 JP

2018-Apr-20

12 LD

12.7

214

2012 XL16

2018-Apr-23

15.8 LD

6.1

28

2013 US3

2018-Apr-29

10.1 LD

7.7

214

2002 JR100

2018-Apr-29

10.8 LD

7.7

49

1999 FN19

2018-May-07

9.7 LD

5.7

118

2016 JQ5

2018-May-08

6.3 LD

10.4

9

388945

2018-May-09

6.5 LD

9

295

Notes: LD means "Lunar Distance." 1 LD = 384,401 km, the distance between Earth and the Moon. 1 LD also equals 0.00256 AU. MAG is the visual magnitude of the asteroid on the date of closest approach.

| | |
| --- | --- |
| | Cosmic Rays in the Atmosphere |




Readers, thank you for your patience while we continue to develop this new section of Spaceweather.com. We've been working to streamline our data reduction, allowing us to post results from balloon flights much more rapidly, and we have developed a new data product, shown here:

This plot displays radiation measurements not only in the stratosphere, but also at aviation altitudes. Dose rates are expessed as multiples of sea level. For instance, we see that boarding a plane that flies at 25,000 feet exposes passengers to dose rates ~10x higher than sea level. At 40,000 feet, the multiplier is closer to 50x. These measurements are made by our usual cosmic ray payload as it passes through aviation altitudes en route to the stratosphere over California.

What is this all about? Approximately once a week, Spaceweather.com and the students of Earth to Sky Calculus fly space weather balloons to the stratosphere over California. These balloons are equipped with radiation sensors that detect cosmic rays, a surprisingly "down to Earth" form of space weather. Cosmic rays can seed clouds, trigger lightning, and penetrate commercial airplanes. Furthermore, there are studies ( #1, #2, #3, #4) linking cosmic rays with cardiac arrhythmias and sudden cardiac death in the general population. Our latest measurements show that cosmic rays are intensifying, with an increase of more than 13% since 2015:




Why are cosmic rays intensifying? The main reason is the sun. Solar storm clouds such as coronal mass ejections (CMEs) sweep aside cosmic rays when they pass by Earth. During Solar Maximum, CMEs are abundant and cosmic rays are held at bay. Now, however, the solar cycle is swinging toward Solar Minimum, allowing cosmic rays to return. Another reason could be the weakening of Earth's magnetic field, which helps protect us from deep-space radiation.

The radiation sensors onboard our helium balloons detect X-rays and gamma-rays in the energy range 10 keV to 20 MeV. These energies span the range of medical X-ray machines and airport security scanners.

The data points in the graph above correspond to the peak of the Reneger-Pfotzer maximum, which lies about 67,000 feet above central California. When cosmic rays crash into Earth's atmosphere, they produce a spray of secondary particles that is most intense at the entrance to the stratosphere. Physicists Eric Reneger and Georg Pfotzer discovered the maximum using balloons in the 1930s and it is what we are measuring today.

| | |
| --- | --- |
| | The official U.S. government space weather bureau |

| | |
| --- | --- |
| | The first place to look for information about sundogs, pillars, rainbows and related phenomena. |

| | |
| --- | --- |
| | Researchers call it a "Hubble for the sun." SDO is the most advanced solar observatory ever. |

| | |
| --- | --- |
| | 3D views of the sun from NASA's Solar and Terrestrial Relations Observatory |

| | |
| --- | --- |
| | Realtime and archival images of the Sun from SOHO. |

| | |
| --- | --- |
| | from the NOAA Space Environment Center |

| | |
| --- | --- |
| | fun to read, but should be taken with a grain of salt! Forecasts looking ahead more than a few days are often wrong. |

| | |
| --- | --- |
| | from the NOAA Space Environment Center |

| | |
| --- | --- |
| | the underlying science of space weather |

| | |
| --- | --- |
| | Reviews here can help you to pick up best memory foam mattresses. |

| | |
| --- | --- |
| | These links help Spaceweather.com stay online. Thank you to our supporters! |