| | | |
| --- | --- | --- |
| AURORA ALERTS: Did you miss the Northern Lights? Next time get a wake-up call from Space Weather PHONE | | |
SUNSPOT TYTONIDAE: Sunspot 1093 continues to amaze onlookers. Earlier this week, it divided like a giant amoeba undergoing mitosis. And "today it looks like an owl (family Tytonidae)," reports Rogerio Marcon of Campinas, Brasil. "What a beautiful configuration!" What's next? Readers with solar telescopes are encouraged to monitor developments.
SUNSPOTS ERUPT IN TANDEM: Today at 1005 UT, magnetic fields connecting sunspot 1093 and 1099 erupted, producing a two-sunspot solar flare (C4-class) and hurling a huge blob of plasma into space. Click on the image to launch a Solar Dynamics Observatory (SDO) movie of the event: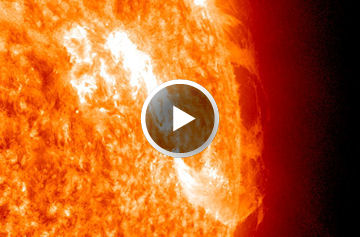 movie formats: 2.4 MB mpeg; 0.9 MB iPhone; 0.7 MB iPad
The explosion lasted for more than two hours, giving many amateur astronomers time to catch the eruption in action. Other than photo-ops, however, this explosion will probably not affect Earth much. The cloud ejected by the blast is not heading our way.
more images: from Cai-Uso Wohler of Bispingen, Germany; from Z. Roy and J.Stetson of South Portland, Maine; from Jan Timmermans of Valkenswaard, The Netherlands
SUBSIDING PERSEIDS: Earth is exiting the debris stream of Comet Swift-Tuttle, source of the Perseid meteor shower. According to the International Meteor Organization, dark-sky observers are now counting fewer than 20 to 30 Perseids per hour, a sharp drop from the peak of 100 per hour on August 13th. The show is essentially over, except for some lingering debris: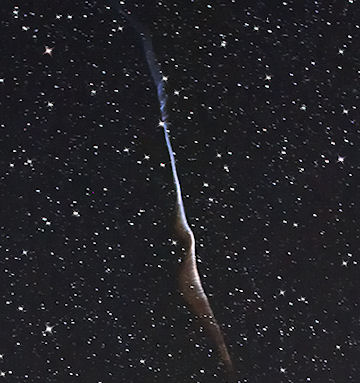 "At about 1:05 a.m. PDT on August 13th, a bright Perseid raced over Borrego Springs, California, illuminating our desert surroundings," reports photographer Dennis Mammana. "We could see the fireball's debris for several minutes as it twisted in the upper atmospheric winds--very pretty!"
Browse the gallery for more reports and images.
Key Perseid Resources:
---
Solar Eclipse Photo Gallery
[NASA: South Pacific Eclipse] [animated map]
---
August 2010 Northern Lights Gallery
[previous Augusts: 2009, 2008, 2007, 2006, 2005, 2004, 2003]