| | | |
| --- | --- | --- |
| ANDROID FLYBYS: Our field-tested satellite tracker is now available for Android phones. Features: Global predictions and flyby alarms! Learn more. | | |
HAUNTING BEAUTY IN DEEP SPACE: The European Space Agency's Rosetta probe is beaming back images of haunting beauty from mysterious asteroid Lutetia. Researchers discuss the meaning of the photos in today's story from Science@NASA.
SUNSET PLANETS: Last night, the crescent Moon passed by Venus, producing a conjunction of such beauty it stopped traffic. "I was driving on Interstate 70 to Grand Junction, Colorado, when I noticed the conjunction." says Malcom Park. "I just had to stop for a better look." He snapped this picture from the banks of the Colorado River: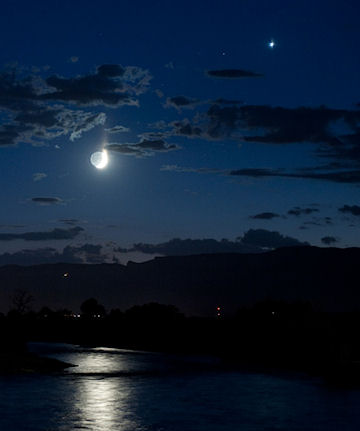 Photo details: Nikon D3, ISO 1600, 2 seconds, f2.8
The show continues tonight as the Moon moves past Venus to form a isosceles triangle with Saturn and Mars. Scanning the vertices with a backyard telescope will quickly reveal mountains and craters on the Moon, the rings of Saturn, and the red disk of Mars. No telescope is required, however, to enjoy the show. Your eyes are all you need. Look west at sunset! Sky maps: July 14, 15, 16.
more images: from Rafael Gallego of Carrión de los Céspedes, Sevilla, Spain; from Amir H. Abolfath of Dizin, Tehran, Iran; from Stefano De Rosa of Bologna (Italy); from David Blanchard of Flagstaff, Arizona; from Marcus Vinícius do Prado Jr. of Gramado, Rio Grande do Sul, Brazil; from Paco Burguera Catalá of La Albufera de Valencia, Spain; from Amir H. Abolfath of Dizin, Tehran, Iran; from Stefano De Rosa of Bologna, Italy; from Aymen Ibrahem of Alexandria, Egypt; from Mohamad Soltanolkottabi of Esfahan, Iran; from Miguel Claro of Capuchos, Almada, Portugal;
PARTIAL ECLIPSE, TOTALLY BEAUTIFUL: During a solar eclipse, you don't have to be in the path of totality for a beautiful view. Here's the proof: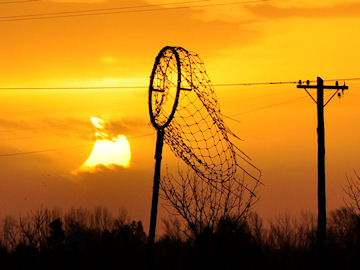 Carlos Caccia took the picture on July 11th, a day when thousands of sky watchers watched a total eclipse from islands, atolls and cruise ships across the South Pacific ocean. Caccia wasn't there; he stayed home in Intendente Alvear, Argentina, where the Moon cut across the sun off-center, producing an eclipse that was merely partial. Caccia was not disappointed, though. "It was lovely," he says.
Browse the gallery for more examples.
UPDATED: Solar Eclipse Photo Gallery
[NASA: South Pacific Eclipse] [animated map] [details]