| | | |
| --- | --- | --- |
| ANDROID FLYBYS: Our field-tested satellite tracker is now available for Android phones. Features: Global predictions and flyby alarms! Learn more. | | |
PUZZLING COLLAPSE OF THE THERMOSPHERE: Researchers are puzzling over a sharper-than-expected collapse of Earth's upper atmosphere during the deep solar minimum of 2008-09. "Something is going on that we do not understand," says John Emmert of the Naval Research Lab, lead author of a paper announcing the finding. Get the full story from Science@NASA.
DUCK-CLASS SOLAR FLARE: Sunspot 1087 has been crackling with low-level solar flares, so when Jo Dahlmans of
the Netherlands looked at the active region yesterday, he wasn't surprised to catch a C-class flare in mid-eruption: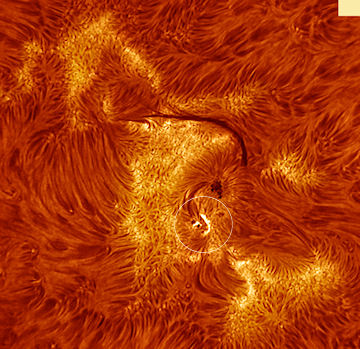 He was very surprised, however, to find a duck! Click here and you will see it, too. "I took the picture using a 150mm refracting telescope and a Lunt solar filter," says Dahlmans. "AR1087 is so active, I can hardly keep up with processing all the data from my backyard observatory. The 'duck flare' was an unexpected bonus."
More action could be in the offing. Sunspot 1087 has a "beta-gamma" magnetic field that harbors energy for M-class solar flares. Readers with solar telescopes are enouraged to monitor developments.
more images: from John Minnerath of Crowheart, Wyoming; from Michael Buxton of Ocean Beach, California; from Philippe ROUCHEUX of Joigny Bourgogne, France; from Peter Desypris of Syros Greece
PARTIAL ECLIPSE, TOTAL BEAUTY: During a solar eclipse, you don't have to be in the path of totality for a beautiful view. Here's the proof: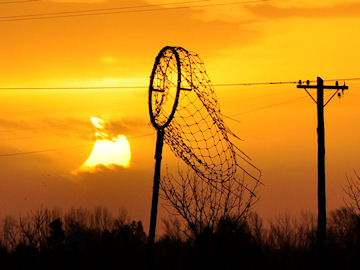 Carlos Caccia took the picture on July 11th, a day when thousands of sky watchers watched a total eclipse from islands, atolls and cruise ships across the South Pacific ocean. Caccia wasn't there; he stayed home in Intendente Alvear, Argentina, where the Moon cut across the sun off-center, producing an eclipse that was merely partial. Caccia was not disappointed, though. "It was lovely," he says.
Browse the gallery for more examples.
UPDATED: Solar Eclipse Photo Gallery
[NASA: South Pacific Eclipse] [animated map] [details]