Did you sleep through the auroras of Dec. 14th? Next time get a wake-up call: Spaceweather PHONE.
AURORA WATCH: Sky watchers from Scandinavia to Alaska should be alert for auroras tonight. A high-speed solar wind stream is buffeting Earth's magnetic field and causing geomagnetic storms at high latitudes.
COMET DOWN UNDER: Want to visit Australia? Now would be a good time. The brightest comet in 40 years is heading Down Under. "For us in the southern hemisphere, Comet McNaught put on its first real show last night," reports photographer Mike Salway of New South Wales, Australia, where the comet was visible to the unaided eye at sunset:

Photo details: Canon 350D, 300mm lens, f/5, ISO 100, 1.3 sec exposure
Experienced observers place the comet's magnitude between -4 and -4.5, in other words, a smidgen brighter than Venus. It pops out of the twilight in the western sky as soon as the sun begins to set: finder chart.
Just last week, McNaught was a northern comet, but over the weekend it passed by the sun, moving north to south. En route it became so bright that many people saw it in broad daylight. Imagine... a comet in blue sky.
Now Comet McNaught is emerging from the glare, and it should remain a spectacular fixture in sunset skies of the southern hemisphere for weeks to come. Stay tuned!
Comet McNaught Photo Gallery
[finder chart] [ephemeris] [orbit]
MEANWHILE ON THE SUN: "Everybody is looking for the comet, but is anybody still monitoring the Sun?" wonders Philippe Vercoutter of Ieper, Belgium who took this picture on Jan. 15th: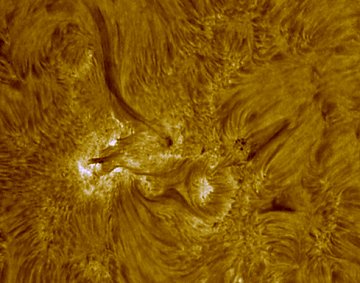 His photo shows "considerable activity around new sunspot 938." Although the sunspot is small, a long stare through the eyepiece of a solar telescope rewards the observer with surges of bright light and slowly-waving magnetic fields. It's the next best thing to a Great Comet.
more images: from Franck Charlier of Marines, Val d'Oise - France