MORNING SHOW: Set your alarm for dawn. On Monday morning, Aug. 17th, Venus and the crescent Moon will gather in the eastern sky for a beautiful close encounter. For many observers in North America, the International Space Station (ISS) will make an appearance, too. It's a dynamite way to begin the day. [ISS flybys] [sky map]
SPACE STATION SILHOUETTE: The sun is blank--no sunspots. That makes it a perfect backdrop for passing spaceships: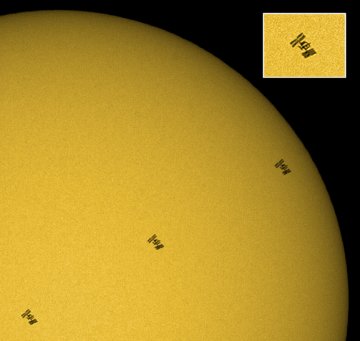 Amateur astronomer Levin Dieterle photographed the transit on August 15th from Hofstetten, Germany. "The ISS crossed the entire sun in only 0.64 seconds," he says. He captured the split-second event using a solar-filtered telescope and a Canon 40D digital camera.
The station's silhouette traces solar arrays, science labs, living quarters and a docked Russian supply ship. Next year, the outline will expand to include a cosmic ray telescope called the Alpha Magnetic Spectrometer. From its perch atop the station's massive backbone, or "truss," the telescope will scan the heavens for antimatter galaxies, strangelets, dark matter and other exotic phenomena only detectable from Earth orbit. Get the full story from Science@NASA.
PERSEIDS CUBED: Why was this year's Perseid meteor shower so good? Three reasons: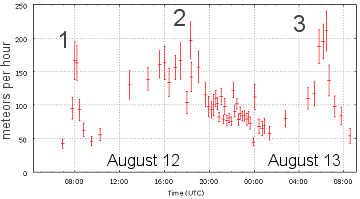 According to the International Meteor Organization, the shower peaked an extraordinary three times. The first peak, around 0800 UT on August 12th, was caused by Earth hitting a filament of dust shed by Perseid parent Comet Swift-Tuttle in 1610. The second peak, around 1800 UT on August 12th, was another cloud of dust from Comet Swift-Tuttle nudged toward Earth by the gravity of Saturn. The third peak, around 0600 UT on August 13th, is not fully understood. Stay tuned for speculation and, meanwhile, browse the gallery.
UPDATED: 2009 Perseid Photo Gallery
[Science@NASA: The Perseids are Coming, Horse Flies and Meteors]
---
2009 Noctilucent Photo Gallery
[previous years: 2008, 2007, 2006, 2005, 2004, 2003]
---
July 2009 Aurora Gallery
[previous Julys: 2008, 2007, 2006, 2005, 2004, 2003]
---