BEWARE THE MARS HOAX: If you have marked your calendar for August 27th to remind yourself to watch Mars swell to the size of a full Moon, go back and add these words: Mars Hoax! Contrary to a widespread email alert, Mars will not come close to Earth on August 27th and it can never rival the full Moon in the night skies of our planet. Science@NASA has the full story.
BUSY MORNING: Monday began with a flurry of activity in the eastern sky. The Moon and Venus converged for a beautiful close encounter and, for many observers in North America, the International Space Station zipped across the dawn traveling 17,000 mph. Thomas Dorman photographed the action over Horizon City, Texas: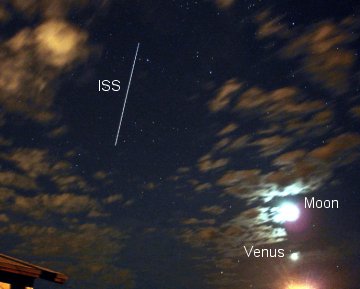 .
"Wow, what a show!" says Dorman.
Elsewhere, the Moon-Venus conjunction provided a backdrop for rocket launches and other forms of air travel. It was a busy morning, indeed. Did you miss the show? Next time get a "look-up" reminder from Spaceweather PHONE.
more images: from Richard Glenn of Cape Sebastian, OR; from Richard Sass of Cloudcroft, New Mexico; from Chris Peterson of Guffey, Colorado; from Monika Landy-Gyebnar of Veszprem, Hungary; from Robert T. Smith of Stoneville, NC; from Jim Tegerdine of Marysville, Washington; from Danny Ratcliffe of Deception Bay, Australia; from Bill Davis of Albuquerque NM; from Sabawa Jordan of Pocomoke City, MD; from Michael Boschat of Halifax, Nova Scotia; from Shevill Mathers of Hobart, Tasmania;
JUPITER AT OPPOSITION: This month, the sun, Earth and Jupiter are almost perfectly aligned. An astronomer would say "Jupiter is at opposition," because Jupiter and the sun are on opposite sides of the sky. This arrangement has a rare and beautiful effect on Jupiter's moon shadows. Consider the following photo taken Aug. 15th by David Leong of Hong Kong: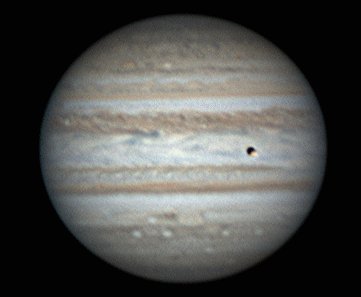 "The shadow of Jupiter's moon Io fell almost directly beneath Io, giving the scene a 3D appearance," says Leong. "This was my first time watching a shadow transit at opposition. It was amazing." Even more amazing is the movie. Click here to set the scene in motion.
Another benefit of opposition: Jupiter is as close to Earth as it gets. The giant planet rises in the east at sunset and outshines the stars all night long. Train a backyard telescope on Jupiter to see the Great Red Spot, Jupiter's moons, moon shadows, and debris from a mystery impact spreading around Jupiter's south pole.
more images: from Raffaello Lena of Rome, Italy; from Alan Friedman of Buffalo, NY; from Mike Hood of Kathleen, Georgia;
---
UPDATED: 2009 Perseid Photo Gallery
[Science@NASA: The Perseids are Coming, Horse Flies and Meteors]
---
2009 Noctilucent Photo Gallery
[previous years: 2008, 2007, 2006, 2005, 2004, 2003]
---