| | | |
| --- | --- | --- |
| When is the best time to see auroras? Where is the best place to go? And how do you photograph them? These questions and more are answered in a new book, Northern Lights - a Guide, by Pal Brekke & Fredrik Broms. | | |
GEOMAGNETIC UNREST: A high-speed solar wind stream is buffeting Earth's magnetic field, and this is causing minor geomagnetic storms around the poles. High-latitude sky watchers should be alert for auroras. Aurora alerts: text, voice.
COLORFUL SPRITES OVER NEBRASKA: "August 12th was another successful night in our sprites campaign," reports Jason Ahrns of the University of Alaska Fairbanks. With a team of researchers from NCAR, he has been flying over the midwestern USA onboard a Gulfstream V in search of exotic forms of lightning. As they were photographing a thunderstorm over Nebraska, these six sprites appeared: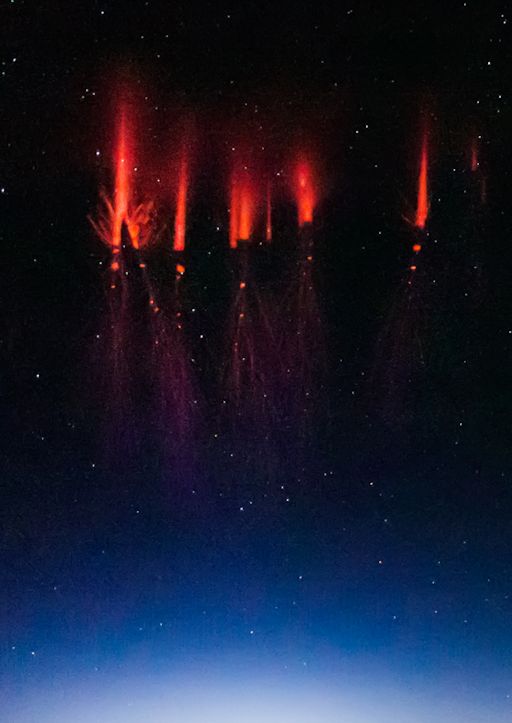 These remarkably beautiful discharges were red on top and purple on the bottom. "I really can't explain the color change," says Ahrns. "That's one of the things we hope to investigate with this campaign by capturing high speed spectra."
First documented in 1989 by scientists from the University of Minnesota who photographed strange flashes coming out of the tops of thunderstorms, sprites remain a mystery today. Neither their basic physics nor their effect on the surrounding atmosphere is well understood. "Do sprites have a large scale impact on the middle atmosphere?" asks Ahrns. "Sprites clearly represent some kind of transfer of energy, but is it on a scale that has a significant effect on the weather and climate? We can't answer that without studying them."
The ephemeral nature of sprites (they typically last no more than a few milliseconds) makes them tricky to study. Researchers on the NCAR Gulfstream capture sprites using Phantom cameras running at 10,000 frames per second. "One of the Phantoms has a diffraction grating in front of it to capture high speed spectra, which I don't think has ever been done before," notes Ahrns.
The prettiest pictures, though, come from Arhns' own camera, a dSLR that he mounts in the window of the airplane to capture "beauty shots." The image above is an example. More may be found in Ahrns' personal blog.
A NEW STAR IN THE SKY: Around the world, amateur astronomers are turning their telescopes toward minor constellation Delphinus where a new star has appeared. Koichi Itagaki of Yamagata, Japan, discovered the nova on August 14th. At the time, the stellar brightness was +6.3. Since then it has continued to brighten, crossing the 6th magnitude threshold of naked-eye visibility. John Chumack photographed the surging nova on August 15th from the John Bryan State Park in Yellow Springs, Ohio: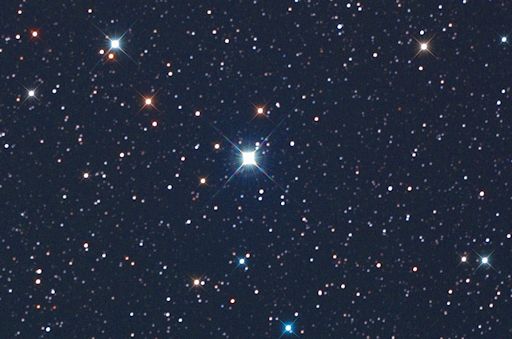 "The nova is hard to see naked eye unless you are in a very dark sky and know exactly where to look," says Chumack, "but this is a very bright nova visible in binoculars." He used a 16-inch Newtonian telescope to take the picture.
Backyard astronomers who wish to see this nova should point their GOTO telescopes to coordinates 20:23:30.7, +20:46:06 (J2000). More information and updates are available from Sky and Telescope.
Realtime Space Weather Photo Gallery
---
---
---
Realtime Noctilucent Cloud Photo Gallery
[previous years: 2003, 2004, 2005, 2006, 2007, 2008, 2009, 2011]
---