| | | |
| --- | --- | --- |
| When is the best time to see auroras? Where is the best place to go? And how do you photograph them? These questions and more are answered in a new book, Northern Lights - a Guide, by Pal Brekke & Fredrik Broms. | | |
CHANCE OF FLARES: The face of the sun is very quiet. However, two sunspots, AR1817 and AR1818, have 'beta-gamma-delta' magnetic fields that harbor energy for significant eruptions. NOAA forecasters estimate a 35% chance of M-class solar flares on August 17th. Solar flare alerts: text, voice.
SIGNIFICANT FLARE: Sunspot AR1818 erupted on August 17th at 1824 UT, producing a long duration M3-class solar flare. NASA's Solar Dynamics Observatory recorded the action: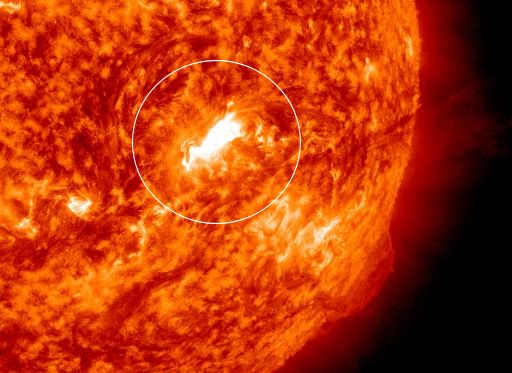 The movie (play it again) shows material from the blast site flying into space. It is too soon to say whether Earth is in the line of fire. Stay tuned for updates as more data arrive from the SOHO and STEREO spacecraft. Aurora alerts: text, voice.
GEOMAGNETIC UNREST: A high-speed solar wind stream is buffeting Earth's magnetic field, causing minor geomagnetic storms and auroras around the poles. Zoltan Kenwell photographed this display on August 16th from Edmonton, Alberta: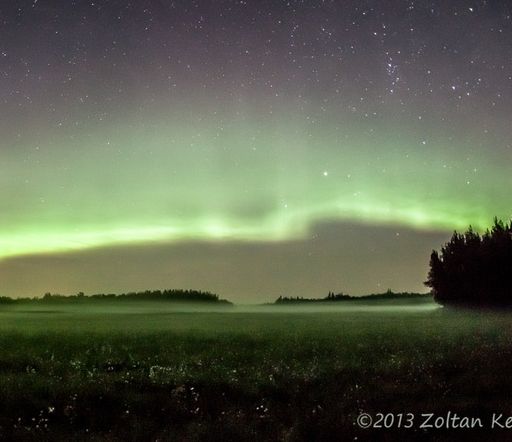 "[Because of clouds and fog], this was kind of a mushy and subdued aurora event," says Kenwell. "It was still a treat to view though."
NOAA forecasters estimate a 50% chance of geomagnetic storms on August 17th as the solar wind continues to blow. High-latitude sky watchers should remain alert for auroras. Aurora alerts: text, voice.
BRIGHT NOVA: Nova Delphini, which exploded just three days ago in the northern constellation Delphinus, has continued to brighten. With a magnitude of +4.5, it is now easily visible in binoculars even from urban areas if you know where to look. This cactus in Tucson, Arizona, points the way: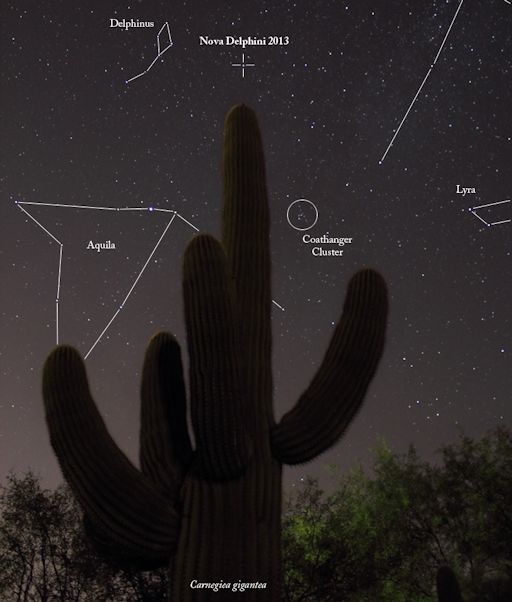 "This is my obligatory southern-Arizona cactus photo of the nova in Delphinus," says photographer Scott Tucker. "It was actually visible to the naked eye at the time."
Novas occur in binary star systems when one star dumps matter onto a companion white dwarf. As the matter piles up on the surface of the white dwarf it heats up, fuses, and explodes, producing a flash of light 50,000 to 100,000 times brighter than the sun. Despite their brightness, most novas are invisible to the unaided eye because they are so far away. Nova Delphini is a rare exception.
Backyard astronomers who wish to see this nova in greater detail should point their GOTO telescopes to coordinates 20:23:30.7, +20:46:06 (J2000). More information and updates are available from Sky and Telescope.
Realtime Space Weather Photo Gallery
COLORFUL SPRITES OVER NEBRASKA: "August 12th was another successful night in our sprites campaign," reports Jason Ahrns of the University of Alaska Fairbanks. With a team of researchers from NCAR, he has been flying over the midwestern USA onboard a Gulfstream V in search of exotic forms of lightning. As they were photographing a thunderstorm over Nebraska, these six sprites appeared: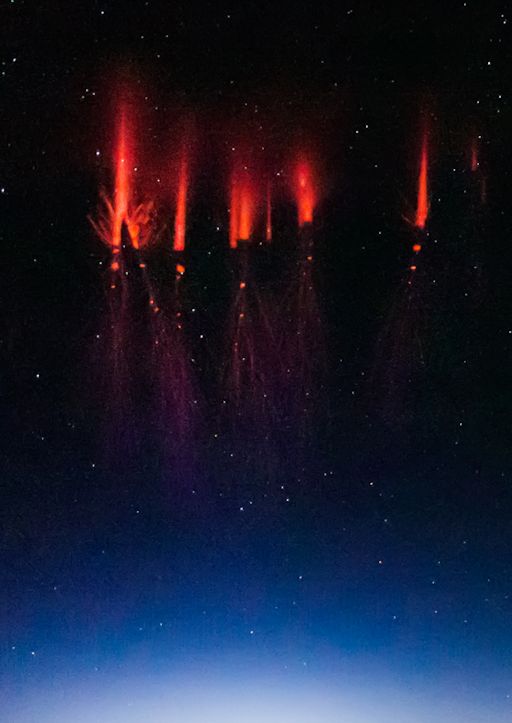 These remarkably beautiful discharges were red on top and purple on the bottom. "I really can't explain the color change," says Ahrns. "That's one of the things we hope to investigate with this campaign by capturing high speed spectra."
First documented in 1989 by scientists from the University of Minnesota who photographed strange flashes coming out of the tops of thunderstorms, sprites remain a mystery today. Neither their basic physics nor their effect on the surrounding atmosphere is well understood. "Do sprites have a large scale impact on the middle atmosphere?" asks Ahrns. "Sprites clearly represent some kind of transfer of energy, but is it on a scale that has a significant effect on the weather and climate? We can't answer that without studying them."
The ephemeral nature of sprites (they typically last no more than a few milliseconds) makes them tricky to study. Researchers on the NCAR Gulfstream capture sprites using Phantom cameras running at 10,000 frames per second. "One of the Phantoms has a diffraction grating in front of it to capture high speed spectra, which I don't think has ever been done before," notes Ahrns.
The prettiest pictures, though, come from Arhns' own camera, a dSLR that he mounts in the window of the airplane to capture "beauty shots." The image above is an example. More may be found in Ahrns' personal blog.
---
---
Realtime Noctilucent Cloud Photo Gallery
[previous years: 2003, 2004, 2005, 2006, 2007, 2008, 2009, 2011]
---