ATLANTIS LANDS IN CALIFORNIA: Space shuttle Atlantis landed today at 8:39 a.m. PDT at Edwards Air Force Base in California, completing the final servicing mission to the Hubble Space Telescope. Atlantis' astronauts conducted five successful spacewalks during their STS-125 flight. The improvements and repairs they made to the orbiting observatory will extend Hubble's life to 2014 and possibly beyond. [more]
BUSY SUN: The sun is still in the pits of a deep solar minimum. Lately, however, attentive observers of solar activity have noticed a certain "busy-ness" on the solar disk. Eric Roel sends this May 23rd snapshot from his backyard observatory in Valle de Bravo, Mexico: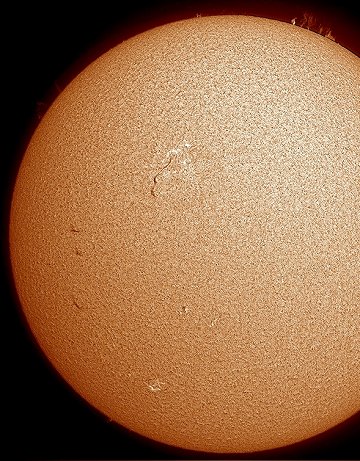 Captured in the photo are five dark magnetic filaments, an emerging sunspot, and a fiery prominence dancing along the solar limb. By the stormy standards of Solar Max, this is a very quiet sun, but it shows signs of life not seen in many months of ongoing solar minimum. According to a panel of NOAA and NASA experts, Solar Cycle 24 will awaken in late 2009 or early 2010 and surge to a peak in May 2013. This could be the beginning.
more images: from Alan Friedman of Buffalo, NY; from Matthias Juergens of Gnevsdorf, Germany; from Mike Strieber of Las Vegas, NV; from Steve Wainwright of Swansea South Wales UK; from Didier Favre of Brétigny-sur-Orge, France;
HELICOPTER GLORY: When flying over a cloud-topped volcano on a sunny day, don't forget to look down at your shadow. This photo submitted by adventure photographer Mila Zinkova shows why: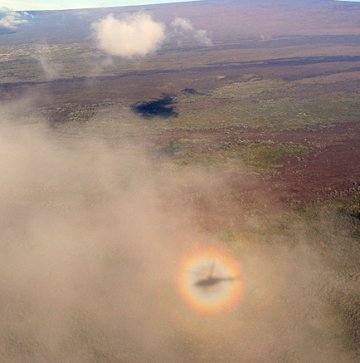 "Last week we took a helicopter over Mauna Loa on the Big Island of Hawaii," says Zinkova. "On the clouds below, our shadow was surrounded by a colorful solar glory."
Glories are rings of light around your shadow. They are caused by sunlight reflected backwards from water droplets in the clouds. Exactly how backscattering produces the colorful rings is a mystery involving surface waves and multiple reflections within individual droplets. Each sighting is a puzzle--all the more reason to seek them out.
Helicopters and volcanoes are not required for glories. All you need is a high perch and moist clouds. Look for them on mountains and hillsides, from aircraft and in sea fog and even indoors.
more images: from Arnaudet Patrice high above the French Alps; from Valentin Grigore flying over Switzerland, Austria, Hungary and Romania;
---
April 2009 Aurora Gallery
[previous Aprils: 2008, 2007, 2006, 2005, 2004, 2003, 2002]
---