ISS SIGHTINGS: Sky watchers in North America should be alert for the International Space Station. The mammoth spacecraft is making a series of bright, evening flybys over the USA and Canada this week. Check the Simple Satellite Tracker to find out when to look.
SKINNY CRESCENT MOON: When the sun goes down tonight, step outside and look west. If you have a clear view of the horizon, you could see a super-skinny crescent Moon shining through the rosy glow of sunset. Tamas Ladanyi sends this picture, taken just a few hours ago, from the Bakony mountains of Hungary: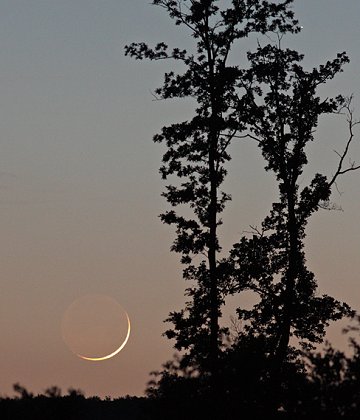 Photo details: Canon 450D, Canon 2.8/200 L objective at f/4, iso 800, 1.6s
"The Moon was only 31 hours old when I took this picture using my Canon 450D," says Ladanyi. "The star near the top of the oak tree is Beta Tau."
more photos: from Catalin M. Timosca of Turda, Romania; from Ugur Ikizler of Mudanya, Turkey; from Ramon Lane of Torrevieja, Spain; from Abraham Tamas of Zsámbék, Hungary; from P-M Hedén of Vallentuna, Sweden; from Günther Strauch of Borken, NRW, Germany; from Stefano De Rosa of Turin, Italy;
HELICOPTER GLORY: When flying over a cloud-topped volcano on a sunny day, don't forget to look down at your shadow. This photo submitted by adventure photographer Mila Zinkova shows why: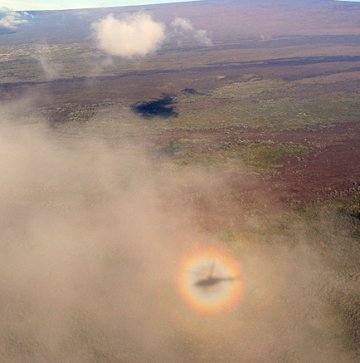 "Last week we took a helicopter over Mauna Loa on the Big Island of Hawaii," says Zinkova. "On the clouds below, our shadow was surrounded by a colorful solar glory."
Glories are rings of light around your shadow. They are caused by sunlight reflected backwards from water droplets in the clouds. Exactly how backscattering produces the colorful rings is a mystery involving surface waves and multiple reflections within individual droplets. Each sighting is a puzzle--all the more reason to seek them out.
Helicopters and volcanoes are not required for glories. All you need is a high perch and moist clouds. Look for them on mountains and hillsides, from aircraft and in sea fog and even indoors.
more images: from Arnaudet Patrice high above the French Alps; from Valentin Grigore flying over Switzerland, Austria, Hungary and Romania;
---
April 2009 Aurora Gallery
[previous Aprils: 2008, 2007, 2006, 2005, 2004, 2003, 2002]
---