JUPITER UPDATE: Five days after it was discovered, the dark mark in Jupiter's cloudtops where an asteroid or comet hit the giant planet is still easy to see through backyard telescopes. Browse these links for recent images: #1, #2, #3, #4, #5, #6.
AURORAS OVER NEBRASKA: "This past Wednesday, I spent the night at at the Nebraska Star Party in Valentine, Nebraska," says amateur astronomer Howard Edin. "Just after midnight I noticed a pale arc of clouds in the north; after staring for a while I realized they were not clouds," A 30-second exposure he made using his Canon 40D revealed the nature of the phenomenon: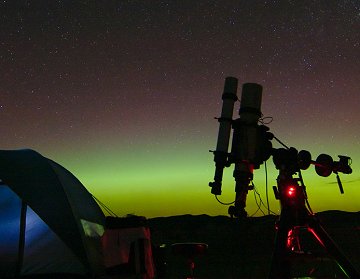 "It was the aurora borealis," he says.
Although he didn't know it at the time, a solar wind stream had just hit Earth's magnetic field, sparking bright auroras over Canada and several northern-tier US states. Nebraska was at the outer limit of the display, so the auroral colors were too dim for human vision, but a digital camera picked them up quite nicely.
Memo to astrophotographers: Auroras can be a great deep-sky target. Sign up for geomagnetic storm alerts, and you'll always know when to open the shutter.
UPDATED: July 2009 Aurora Gallery
[previous Julys: 2008, 2007, 2006, 2005, 2004, 2003]
NOCTILUCENT CLOUDS OVER OREGON: "Last night, July 23rd, we stepped outside to watch an ISS flyover, but that performance was outstaged by one of the most spectacular NLC displays I've ever witnessed!" reports Paul Wagner of Portland, Oregon. The electric-blue clouds were almost as bright as some of the porch lights in his neighborhood: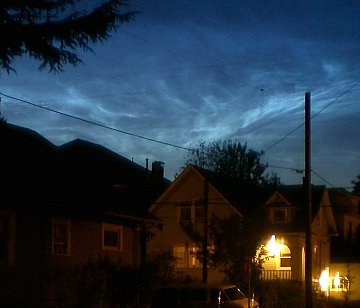 Andrew Robb saw the same display: "They came through like a storm. These were the brightest noctilucent clouds I've seen yet over the Portland area, and they really had a nice variety of forms. What a sight!"
This is the second time in July that bright noctilucent clouds have descended from their usual arctic habitat to the continental United States. Sightings have been made in Colorado, Utah, Washington, Oregon, Nebraska, Nevada and many other states where the night sky does not usually turn electric-blue. No one knows why the mysterious clouds are spreading south, but they are; observers at all latitudes should be alert for NLCs.
UPDATED: 2009 Noctilucent Photo Gallery
[previous years: 2008, 2007, 2006, 2005, 2004, 2003]
---
July 22nd Eclipse Gallery
[previous eclipses: Jan 26, 2009; Aug. 1, 2008; Mar. 19, 2007]
---