WHAT'S FOLLOWING THE ISS? A number of readers who went outdoors after dark on July 24th to see the International Space Station say they also saw an object following (or even passing) the station. The follower was probably the Progress 34, a Russian supply ship which launched earlier in the day from the Baikonur Cosmodrome in Kazakhstan. Check the Simple Satellite Tracker for ISS flyby times and get two spaceships for the price of one.
HUBBLE SEES JUPITER IMPACT: The Jupiter impact scar discovered by amateur astronomer Anthony Wesley on July 19th has been photographed by the Hubble Space Telescope: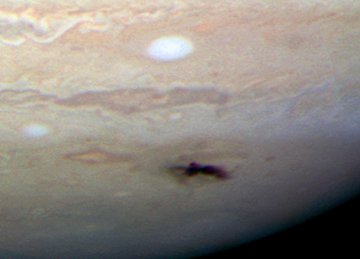 "This July 23rd Hubble photo shows a lumpiness to the debris plume caused by turbulence in Jupiter's atmosphere," says Amy Simon-Miller of NASA's Goddard Space Flight Center. Based on the appearance of the impact zone, she estimates that the diameter of the impacting object was several hundred meters--i.e., several football fields wide. The force of the explosion was likely thousands of times greater than the Tunguska impact of 1908.
The impact scar remains an easy target for mid-sized backyard telescopes, and amateur astronomers can contribute to its study by monitoring Jupiter in the nights ahead: sky map. The spot is located near Jupiter's System II longitude 210°. For the predicted times when it will cross the planet's central meridian, add 2 hours and 6 minutes to Sky and Telescope's predicted transit times for Jupiter's Great Red Spot.
AURORAS OVER NEBRASKA: "This past Wednesday, I spent the night at at the Nebraska Star Party in Valentine, Nebraska," says amateur astronomer Howard Edin. "Just after midnight I noticed a pale arc of clouds in the north; after staring for a while I realized they were not clouds," A 30-second exposure he made using his Canon 40D revealed the nature of the phenomenon: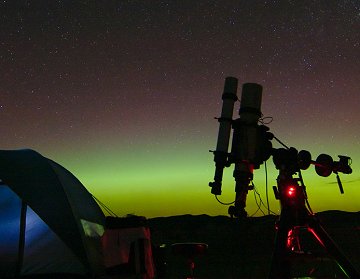 "It was the aurora borealis," he says.
Although he didn't know it at the time, a solar wind stream had just hit Earth's magnetic field, sparking bright auroras over Canada and several northern-tier US states. Nebraska was at the outer limit of the display, so the auroral colors were too dim for human vision, but a digital camera picked them up quite nicely.
Memo to astrophotographers: Auroras can be a great deep-sky target. Sign up for geomagnetic storm alerts, and you'll always know when to open the shutter.
July 2009 Aurora Gallery
[previous Julys: 2008, 2007, 2006, 2005, 2004, 2003]
---
2009 Noctilucent Photo Gallery
[previous years: 2008, 2007, 2006, 2005, 2004, 2003]
---
July 22nd Eclipse Gallery
[previous eclipses: Jan 26, 2009; Aug. 1, 2008; Mar. 19, 2007]
---