| | | |
| --- | --- | --- |
| AURORA ALERTS: Did you miss the Northern Lights? Next time get a wake-up call from Space Weather PHONE | | |
THE MUTATING MARS HOAX: Warning: The Mars Hoax is back and it's trickier than ever. Read today's story from Science@NASA to find out what's really going to happen in the night sky on August 27th.
NORTHERN LIGHTS: A high-speed solar wind stream is buffeting Earth's magnetic field and causing geomagnetic storms around the Arctic circle. Last night in Tromsø, Norway, the auroras were so bright, they could be seen in evening twilight: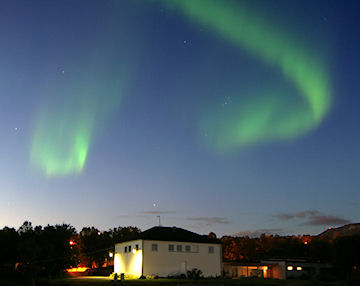 At Tromsø's latitude (69°40′ N, 300 miles inside the Arctic circle), the midnight sun has overwhelmed Northern Lights since June, but visibility is improving as autumn nears. "I wasn't sure it would be dark enough yet, especially with the full Moon out as well," says photographer Hanneke Luijting. "I was jumping for joy when I saw that the aurora was strong enough to be visible! This was a great start to the season."
NOAA forecasters estimate a 30% chance of geomagnetic activity during the next 24 hours. High-latitude sky watchers should remain alert for auroras.
more images: from Dave Swartz of Toolik Lake, Alaska; from Andrew Colvin of Yellowknife, Northwest Territories, Canada; from Sævar Helgi Bragason of Bardastrond, Iceland; from Sylvain Serre of Salluit, Nunavik, Quebec, Canada; from Gilles Boutin of St-Michel de Bellechasse, Quebec; from Olivier Du Tré of Cochrane, Alberta
FULL MOON: How can you tell this Moon is full? Is it the enormous disk? The glaring moonlight? No. The real clue is the orange color of the office windows. Scroll down for the reason why: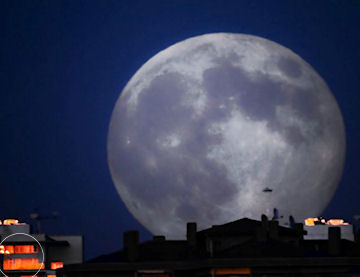 "The orange light in the windows is reflection of the sunset," explains photographer M. Raşid Tuğral of Ankara, Turkey. "The sun and Moon were on opposite sides of the sky--the defining geometry of a full Moon!"
Last night's sun-Moon geometry attracted the attention of photographers around the world. Browse the links for more examples: from Stefano De Rosa of Isola d' Elba, Italy; from Tamás Ábrahám of Tök, Hungary; from Tamas Ladanyi of Veszprem, Hungary; from Mohammad Rahimi of Esfahan, Iran; from George Kristiansen of Upton, Lincolnshire, UK; from Fredrik Broms of Kvaløya, Norway; from Christophe Stolz of Riggisberg, Switzerland; from Alan Dyer of Dinosaur Provincial Park, Alberta, Canada
---
August 2010 Northern Lights Gallery
[previous Augusts: 2009, 2008, 2007, 2006, 2005, 2004, 2003]
---
2010 Perseid Photo Gallery
[meteor radar] [Perseid fireball cam]