| | | |
| --- | --- | --- |
| iPHONE VS ANDROID! Actually, it doesn't matter which phone you carry. Our cool, new app turns both smartphones into field-tested satellite trackers. Learn more. | | |
MIDNIGHT RENDEZVOUS: Tonight, at the stroke of midnight, go outside an look southeast. The nearly full Moon and Jupiter are having a lovely close encounter. The two brightest objects in the night sky are only only 6o apart: sky map.
BLUE SKY AURORAS: Normally, darkness is required to see the auroras borealis. This week, however, Arctic sky watchers have witnessed Northern Lights dancing on a stage of vivid twilight blue: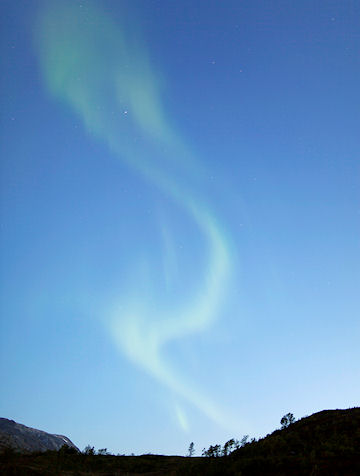 Kjetil Skogli sends the picture from Tromsø, Norway, 300 miles inside the Arctic circle. "The auroras were so bright," says Skogli. "It was great to see them again after a long summer of midnight suns." With autumn approaching, the night sky is darkening enough for bright auroras to punch through the glare. "I'm looking forward to more," he says.
More are in the offing. NOAA forecasters estimate a 50% chance of geomagnetic activity during the next 24 hours as a high-speed solar wind stream continues to buffet Earth's magnetic field. High-latitude sky watchers should remain alert for auroras.
SMALLEST FULL MOON OF THE YEAR: If you thought this week's full Moon looked a bit small, you were right. It was the smallest full Moon of the year. Anthony Ayiomamitis of Athens, Greece, offers this comparison: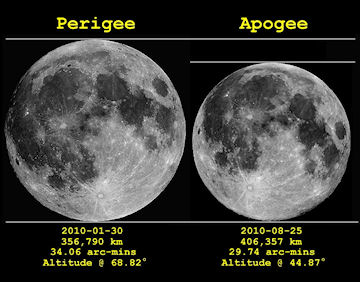 It shows the largest full Moon of the year (Jan. 30) vs. the smallest (Aug. 25th). "The difference between the two full moons is around 14.5% and certainly easily noticeable by the naked eye," says Ayiomamitis.
Johannes Kepler explained the difference 401 years ago: The Moon's orbit around Earth is an ellipse. One side of the orbit (perigee) is 50,000 km closer to Earth than the other (apogee). The full Moon of Aug. 25th was a distant apogee Moon, and that's why it looked so small.
---
August 2010 Northern Lights Gallery
[previous Augusts: 2009, 2008, 2007, 2006, 2005, 2004, 2003]
---