SPACE STATION FLARES: Lately, a growing number of observers are reporting intense "flares" coming from the International Space Station (ISS). A typical sighting begins with a normal, sedate flyby: The station soars overhead, cutting silently through the stars with no hint that something extraordinary is about to happen. Then, a startling explosion of light boosts the station's luminosity 10-fold or more. Some observers have witnessed flares of magnitude -8 or twenty-five times brighter than Venus.
On May 22nd, Dutch amateur astronomer Quintus Oostendorp watched a flare through his backyard telescope. A movie he recorded using his Canon 1000D shows what happened: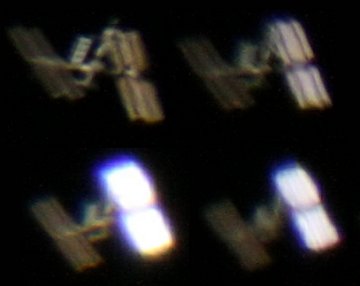 Click to view a 0.7 MB Quicktime movie
The bright flash is sunlight glinting off the station's enormous solar arrays. Earlier this year, on March 20th, astronauts unfurled a new pair of arrays on the space station's starboard side, adding 8000 sq. feet of light-catching surface area to the station's profile. The extra area increases both the chances and the luminosity of flares. "It is a spectacular sight!" says Oostendorp.
No one knows when they will happen or how bright they will be. That's what makes the hunt for "space station flares" so much fun. Check the Simple Satellite Tracker for flyby times--and let the hunt begin!
more flares: from Rafael Schmall of Hungary, Somogy, Kaposfo; from Kevin Kell of Yarker, Ontario, Canada; from Martin Gembec of Litice nad Orlici, Czech Republic; from Nicolas Biver of Versailles, France
SUNSET MOON: When the sun goes down tonight, step outside and look west. You might see something like this: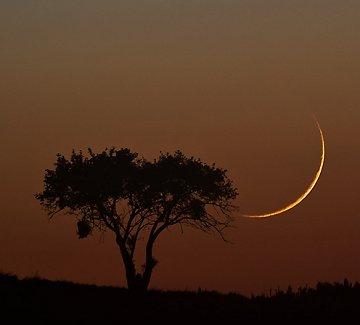 Marek Nikodem of Szubin, Poland, took the picture last night using a Nikon D700. "The Moon was only 31 hours past new," he says. "It was a lovely crescent!"
Only one day older and a few percent wider, the crescent Moon will be back again this evening. Browse the photos for a preview:
moon shots: from Andrew Dallow of Darfield, New Zealand; from Marcin Grzybowski of Poland; from Luca Basili of Rome, Italy; from Tamas Ladanyi in the Bakony mountains of Hungary; from Janie Shur and J. Stetson of Sebago Lake, Maine; from Gonzalo Vargas of Cochabamba, Bolivia; from Catalin M. Timosca of Turda, Romania; from Ugur Ikizler of Mudanya, Turkey; from Ramon Lane of Torrevieja, Spain; from Abraham Tamas of Zsámbék, Hungary; from P-M Hedén of Vallentuna, Sweden; from Günther Strauch of Borken, NRW, Germany; from Stefano De Rosa of Turin, Italy; from Joseph M. Golebieski of Toms River, New Jersey; from Michael Boschat of Halifax, Nova Scotia;
---
April 2009 Aurora Gallery
[previous Aprils: 2008, 2007, 2006, 2005, 2004, 2003, 2002]
---