SPACE STATION FLYBYS: Space shuttle Endeavour is docked to the International Space Station, and this week the two spaceships are going to fly in tandem over many US towns and cities. Check the Simple Satellite Tracker to find out when to look.
EARLY PERSEID FIREBALL: Earth is entering a stream of dusty debris from Comet Swift-Tuttle, the source of the annual Perseid meteor shower. Although the shower won't peak until August 11th and 12th, the show is already underway. Brian Emfinger of Ozark, Arkansas, photographed this Perseid just after midnight on Sunday, July 26th: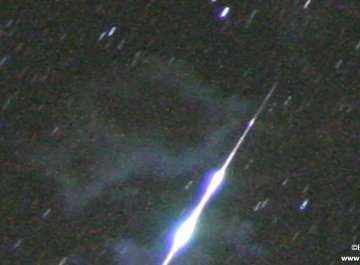 "I caught the fireball and its smoke trail using my Canon Digital Rebel XT," says Emfinger. "It flew through the field of view during a one minute exposure."
This early Perseid whets the appetite for the greater show ahead. Meteor rates, low now, will increase as Earth moves deeper into the debris stream. On peak-night, sky watchers could see more than 60 Perseids per hour. Stay tuned for updates as the shower unfolds.
JUPITER'S IMPACT CLOUD EXPANDS: Jupiter's impact cloud is expanding. On July 19th, when it was discovered by amateur astronomer Anthony Wesley, the dark mark near Jupiter's south pole was barely visible in backyard telescopes. Five days later Wesley photographed the impact cloud again and found that it had approximately tripled in size: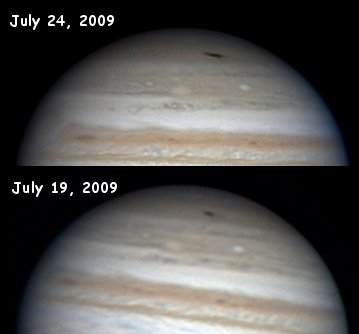 High-resolution images from the Hubble Space Telescope reveal what's happening: turbulence and jet streams in Jupiter's atmosphere are causing the cloud to spread out. The vast impact site is now tens of thousands of times wider than the 100m-class comet or asteroid that created it.
The expansion of the cloud makes it easier than ever to see through a backyard telescope: sky map. The cloud is located near Jupiter's System II longitude 210°. For the predicted times when it will cross the planet's central meridian, add 2 hours and 6 minutes to Sky and Telescope's predicted transit times for Jupiter's Great Red Spot.
more images: from Tom King of Watauga, Texas; from Mike Salway of Central Coast, NSW Australia; from Mike Hood of Kathleen, Georgia; from Alphajuno of League City, Texas; from Jim Melka of Chesterfield, Missouri,; from Giovanni Soligo of Formia (Latina), Italy; from Dennis Put of Brielle, Netherlands; from Ricardo Kuehn of Salvador, Bahia, Brazil; from Paul Kinzer of Galesville, Wisconsin; from Juan Miguel González Polo of Cáceres, Spain; from Tom Jorgenson of Hartmann Creek State Park near Waupaca, WI; from Tom Murdic of Franklin, Tennessee;
---
July 2009 Aurora Gallery
[previous Julys: 2008, 2007, 2006, 2005, 2004, 2003]
---
2009 Noctilucent Photo Gallery
[previous years: 2008, 2007, 2006, 2005, 2004, 2003]
---
July 22nd Eclipse Gallery
[previous eclipses: Jan 26, 2009; Aug. 1, 2008; Mar. 19, 2007]
---