| | | |
| --- | --- | --- |
| Listen to radar echoes from satellites and meteors, live on listener-supported Space Weather Radio. | | |
CME IMPACT: An interplanetary shock wave (probably the leading edge of a minor CME) hit Earth's magnetic field on June 27th at approximately 1420 UT (7:20 PDT). The impact was relatively weak and so far it has not caused a geomagnetic storm. SWx alerts: text, voice.
NEW SOLAR OBSERVATORY LAUNCHES TODAY: A new and unique solar observatory is poised to leave Earth today. IRIS (the Interface Region Imaging Spectrograph) will blast off from California's Vandenberg Air Force Base onboard a Pegasus XL rocket at 7:27 p.m. PDT. A modified L-1011 airliner will carry the rocket to 39,000 feet over the Pacific Ocean where the plane will drop the Pegasus to begin the launch. (continued below)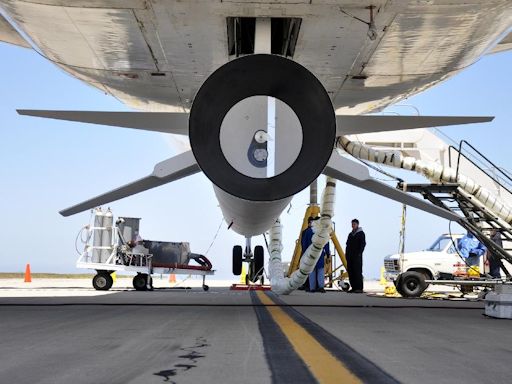 Above: Engineers mount the Pegasus to the belly of the Orbital Sciences L-1011.
NASA's Solar Dynamics Observatory (SDO) is known as the finest solar telescope ever launched into space. IRIS is equally capable, but in its own way. "IRIS almost acts as a microscope to SDO's telescope," explains mission manager Jim Hall. While SDO sees the entire sun, IRIS going to look closely at about 1 percent of the sun's surface, discerning features as small as 150 miles across.
IRIS will pay special attention to a thin layer of the sun's atmosphere called the "interface region" where most of the sun's ultraviolet emission is generated. Researchers are keen to study this layer because it is probably the energy source for the sun's mysteriously-hot outer corona.
"IRIS will show the solar chromosphere in more detail than has ever been observed before," says Adrian Daw, deputy project scientist. "My opinion is that we are bound to see something we didn't expect to see." Stay tuned!
Realtime Space Weather Photo Gallery
NOCTILUCENT CLOUDS--AIR VS AIM: Every day, NASA's AIM spacecraft maps the distribution of noctilucent clouds (NLCs) around Earth's north pole. The results are displayed on spaceweather.com in the form of the "daily daisy." On June 20th, pilot Brian Whittaker flew past a vivid display of NLCs over the North Atlantic Ocean and he decided to compare his own view to that of AIM. Here are the results: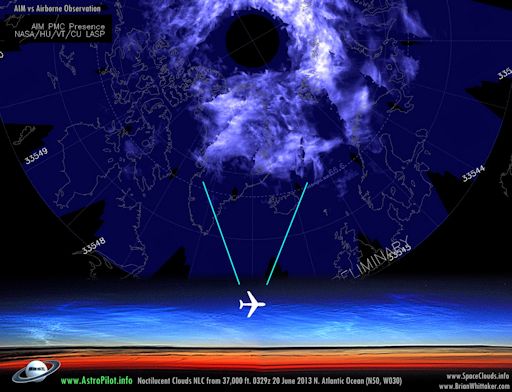 "Once again, AIM's daily daisy-wheel allowed me to see where the northern horizon noctilucent clouds truly were!" says Whittaker. "This display reached a maximum height of about 10 degrees as seen from 37,000 feet at 50N latitude. It was my 4th and best sighting of 2013 so far."
2013 is shaping up to be a good year for NLCs. The clouds surprised researchers by appearing early this year, and many bright displays have already been recorded. Once confined to the Arctic, NLCs have been sighted in recent years as far south as Utah, Colorado, and Nebraska. They might spread even farther south in 2013.
Observing tips: Look west 30 to 60 minutes after sunset when the sun has dipped 6o to 16o below the horizon. If you see luminous blue-white tendrils spreading across the sky, you've probably spotted a noctilucent cloud.
Realtime Noctilucent Cloud Photo Gallery
[previous years: 2003, 2004, 2005, 2006, 2007, 2008, 2009, 2011]
PHOTOS OF THE SUPERMOON: The mainstream media called this past weekend's full Moon a "supermoon." On the beach in Halkidiki, Greece, however, it didn't seem so big. Photographer Theodoridis Constantinos found that it fit in the palm of an onlooker's hand: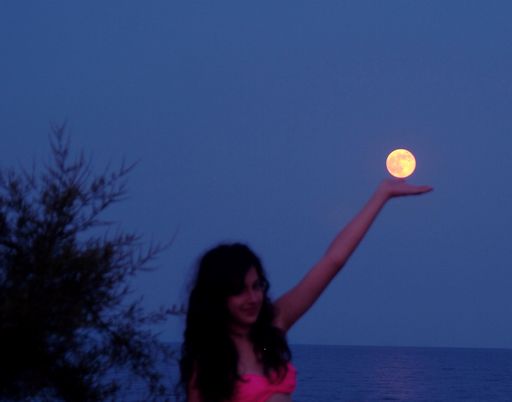 Appearances notwithstanding, the supermoon was as much as 14% bigger than other full Moons of 2013. It only looks small in this picture because foreground objects affect our perception of size and distance. The human brain can be tricky in that way.
The scientific term for the supermoon phenomenon is "perigee moon." Full Moons vary in size because of the oval shape of the Moon's orbit. The Moon follows an elliptical path around Earth with one side ("perigee") about 50,000 km closer than the other ("apogee"). Full Moons that occur on the perigee side of the Moon's orbit seem extra big and bright. On June 23rd, the Moon became full at 11:34 UT, only 23 minutes after perigee--a near-perfect coincidence that gave us an extra-bright, extra-big lunar orb.
More pictures of the super-perigee Moon may be found in the realtime photo gallery. Browse and enjoy.
---
---