| | | |
| --- | --- | --- |
| Listen to radar echoes from satellites and meteors, live on listener-supported Space Weather Radio. | | |
EARTH-DIRECTED CME: June 28th began with a double solar flare. Magnetic fields around sunspots AR1777 and AR1778 erupted in quick succession between 0130 UT and 0345 UT, producing two C-class (C4, C7) flares. A CME emerging from the sprawling blast site appears to be heading for Earth, although not squarely. Click to view a coronagraph movie from the Solar and Heliospheric Observatory: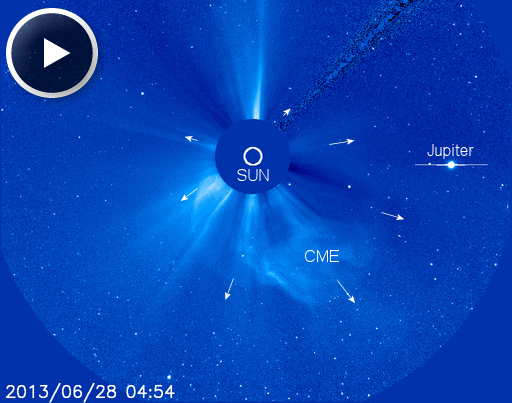 An analysis of this complicated event is still underway. It is possible that Earth's magnetic field will receive a glancing blow from the CME on or about June 30th. The impact could cause minor geomagnetic storms. Stay tuned for updates. Aurora alerts: text, voice.
Realtime Space Weather Photo Gallery
SOLAR OBSERVATORY LAUNCHED: NASA's newest space telescope, a unique solar observatory named "IRIS", is orbiting Earth today following a successful launch on June 27th at 7:27 pm PDT. Leaving from the Vandenberg Air Force Base in California, an Orbital L-1011 aircraft carried IRIS inside a Pegasus XL rocket out over the Pacific Ocean, where the rocket separated from the belly of the airplane and blasted into space. The rocket's exhaust created a beautiful sunset display along the central California coast: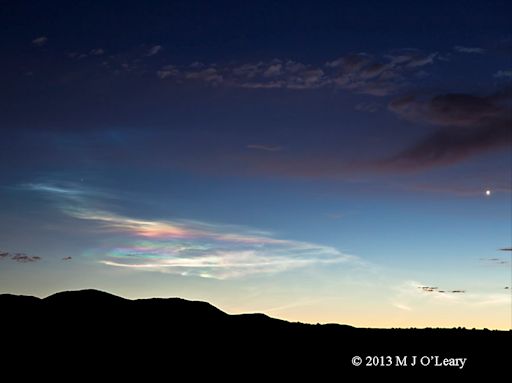 Mike O'Leary took the picture from El Cajon, CA. "Sunlight passing through ice crystals formed from the exhaust of the Pegasus rocket created a beautiful twilight effect." According to another onlooker, Thom Peck of Poway, California, the iridescent colors lasted until at least 9:30 pm PDT.
IRIS is on a mission to study the "interface region," a layer of the sun's atmosphere where most solar ultraviolet radiation is generated. Researchers are keen to study the interface region because it is probably the energy source for the sun's mysteriously-hot outer corona.
A good way to understand IRIS's uniqueness is to compare it to NASA's Solar Dynamics Observatory (SDO). While SDO sees the entire sun, IRIS going to look closely at only 1 percent of the sun's surface, discerning features as small as 150 miles across. "IRIS almost acts as a microscope to SDO's telescope," explains mission manager Jim Hall.
"IRIS will show the solar chromosphere in more detail than has ever been observed before," says Adrian Daw, deputy project scientist. "My opinion is that we are bound to see something we didn't expect to see."
NOCTILUCENT CLOUDS: For the past few nights, evening sky watchers in northern Europe and Canada have seen bright noctilucent clouds hovering at the edge of space. Alan Dyer photographed these electric-blue waves approximately 70 km above a bank of thunderstorms in Gleichen, Alberta: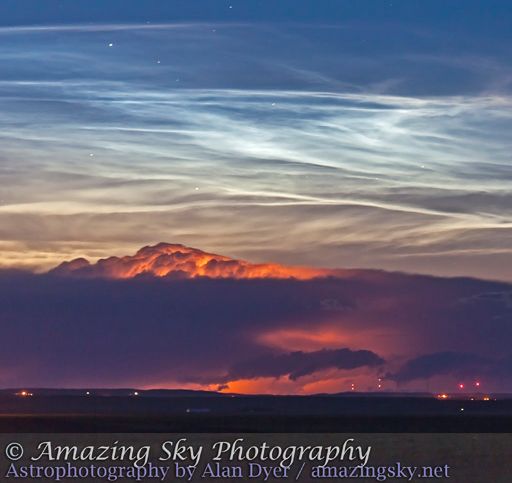 "An interesting phenomenon in this display was the fringe of red at the upper edge of the thunderclouds, which contrasted nicely with the light blue color of the NLCs," says Dyer.
2013 is shaping up to be a good year for NLCs. The clouds surprised researchers by appearing early this year, and many bright displays have already been recorded. Once confined to the Arctic, NLCs have been sighted in recent years as far south as Utah, Colorado, and Nebraska. They might spread even farther south in 2013.
Observing tips: Look west 30 to 60 minutes after sunset when the sun has dipped 6o to 16o below the horizon. If you see luminous blue-white tendrils spreading across the sky, you've probably spotted a noctilucent cloud.
Realtime Noctilucent Cloud Photo Gallery
[previous years: 2003, 2004, 2005, 2006, 2007, 2008, 2009, 2011]
---
---