SHENZHOU 7 SPACEWALK: Chinese astronaut (taikonaut) Zhai Zhigang made history today when he floated out of the Shenzhou 7 spacecraft for his country's first spacewalk. Chinese planners regard this as an important step toward their long-term goal of building an orbital space station. Shenzhou 7 will remain in Earth orbit for at least one more day, and you may be able to see it with your own eyes. Check the Satellite Tracker for viewing times.
GRAND CENTRAL: Last night, in a span of time shorter than 30 minutes, "Shenzhou 7, the Jules Verne ATV, and the International Space Station (ISS) all passed over my home in Melbourne, Australia," reports amateur astronomer Rob Carew, who sends this composite: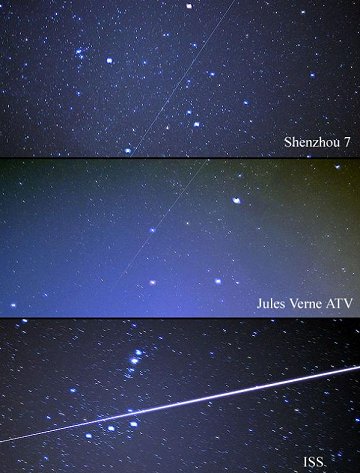 "Two different manned spacecraft and the amazing ATV--it was great to see and photograph them all," he says.
In a matter of days, two of the three will vanish from the heavens. China's Shenzhou 7 mission is slated to end on Sept. 28th when the three taikonauts onboard return to Earth inside their Apollo-style capsule. Europe's Jule Verne cargo carrier returns to Earth one day later, on Sept. 29th, when it burns up in the atmosphere over the south Pacific Ocean. Two NASA aircraft and possibly the ISS itself will be positioned to monitor the fireball. Stay tuned for photos of that.
more images: from Ralf Vandebergh of the Netherlands; from Günther Strauch of Borken, NRW, Germany; from Dave P Smith of Bluebell Hill, Kent, England; from Troy Arkley of Wellington, New Zealand; from Vincent Phillips of Hale Village near Liverpool, UK; from Martin Popek of Nýdek, Czech Republic;
MOVING MARS ROCK: What lies underneath a Mars rock? Phoenix mission scientists decided to find out. On Monday, Sept. 22nd, they commanded the lander to extend its robotic arm and move a rock nicknamed "Headless." Put on your 3D glasses to observe the result: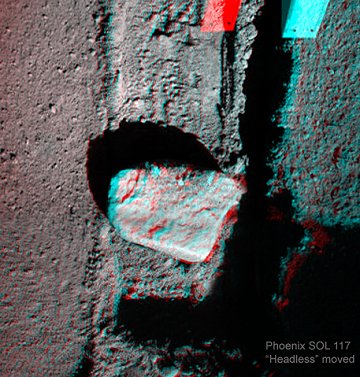 Graphic artist Patrick Vantuyne of Belgium created the anaglyph by combining two slightly-offset photos from Phoenix's robotic arm camera. "I demonstrate here that you don't need a stereo camera to make 3D images; offset photos work, too. The same technique was used to make a 3D micro-photograph of a rock encountered by NASA's Spirit rover."
Now that Headless has been moved, Phoenix can begin to scrape and scoop some of the icy soil formerly hidden. Of particular interest is the depth of the ice layer beneath the rock. Researchers think rocks on the ground may interfere with a water cycle linking the martian atmosphere with subsurface ice. A measurement of ice depth should distinguish between competing theories: full story.
---
Sept. 2008 Aurora Gallery
[Aurora Alerts] [Night Sky Cameras]