SHENZHOU 7 UPDATE: China's Shenzhou 7 spacecraft has landed. The reentry capsule carrying three taikonauts parachuted safely to the grasslands of inner Mongolia on Sunday, Sept. 28th.
GREAT PROMINENCE: A prominence of rare size and beauty is dancing along the sun's southeastern limb today. "Wow! It was so big, I had a hard time fitting it in the field of view," reports Pete Lawrence, who sends this picture from his backyard observatory in Selsey UK: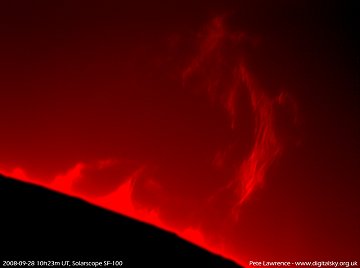 "There is a lot of complex motion visible within the prom's structure," he adds. Indeed, this animation created by Emiel Veldhuis of the Netherlands shows some of the motions readily visible through backyard solar telescopes. From bottom to top, the dynamic structure measures a whopping 10 Earth diameters high. If you have a solar telescope, take a look.
more images: from Larry Alvarez of Flower Mound, Texas; from Didier Favre of Brétigny-sur-Orge, France; from Robert Arnold of Isle of Skye, Scotland; from Cai-Uso Wohler of Bispingen, Germany; from P-M Hedén of Vallentuna, Sweden; from Steve Wainwright of Swansea, South Wales; from Les Cowley of the UK; from Emiel Veldhuis of Zwolle, the Netherlands; from Stephen Ames of Hodgenville, Kentucky; from Adrian Guzman of San Jose, California;
DOOMED SPACECRAFT: The Jules Verne robotic cargo carrier is making its final orbits around Earth. On Monday, Sept. 29th at 1330 UT, mission controllers in Europe will command Jules Verne to plunge into the atmosphere above the South Pacific Ocean where it will disintegrate in a blaze of light and heat.
"Yesterday evening, I saw Jules Verne for the first and possibly last time flying solo in the skies over Germany," reports amateur astronomer Dirk Ewers. "It was flying about 30 minutes behind the International Space Station, and I video-recorded both using a 5-inch refracting telescope."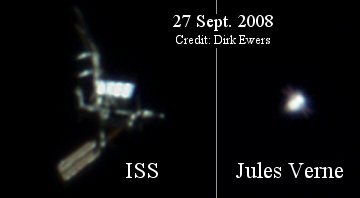 The movies are must-see. First, download the free DivX video compressor. Then, click here and here to play the flybys. Compared to the ISS, "the Jules Verne is really small, but on the video you can see its four auburn-colored solar panels with a width of only 1 meter," notes Ewers.
On Monday, auburn turns molten red. Two NASA aircraft and possibly the ISS itself will be positioned to observe the fireball. Follow the action at the ESA's Jules Verne blog and stay tuned for photos from the South Pacific.
more images: from Martin Mc Kenna of Maghera, Co. Derry, N. Ireland; from Ralf Vandebergh of the Netherlands; from Günther Strauch of Borken, NRW, Germany; from Dave P Smith of Bluebell Hill, Kent, England; from Troy Arkley of Wellington, New Zealand; from Vincent Phillips of Hale Village near Liverpool, UK; from Martin Popek of Nýdek, Czech Republic;
---
Sept. 2008 Aurora Gallery
[Aurora Alerts] [Night Sky Cameras]