| | | |
| --- | --- | --- |
| Metallic photos of the sun by renowned photographer Greg Piepol bring together the best of art and science. Buy one or a whole set. They make a stellar gift. | | |
RADIATION STORM: Accelerated by yesterday's X-flare, energetic protons from the sun are swarming around Earth on Jan. 28th. The radiation storm ranks S2 on NOAA scales, which means this is not a severe storm. Nevertheless, it can still affect spacecraft and satellites at the nuisance level. For instance, this coronagraph image from SOHO is clouded by protons hitting SOHO's onboard digital camera.
ANNULAR SOLAR ECLIPSE: A "ring of fire" solar eclipse is coming to the USA this spring. It's the first annular eclipse visible from the contiguous United States in almost 18 years. Science@NASA has the full story and a video.
X-FLARE (UPDATED): Departing sunspot 1402 unleashed an X2-class solar flare on Jan. 27th at 18:37 UT. NASA's Solar Dynamics Observatory recorded the extreme ultraviolet flash:
Sunspot 1402 is rotating onto the far side of the sun, so the blast site was not facing Earth. Nevertheless, energetic protons accelerated by the blast are now surrounding our planet, and an S2-class radiation storm is in progress.
The explosion also produced a spectacular coronal mass ejection (CME). A movie from the Solar and Heliospheric Observatory shows the cloud racing away from the sun at 2500 km/s or 5.6 million mph. Update: Work by analysts at the Goddard Space Weather Lab shows that the CME will just miss Earth when its edge passes by our planet on Jan. 30-31. Click to view an animated forecast track: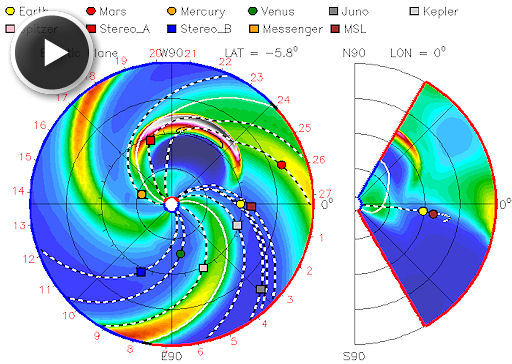 The cloud will deliver a glancing blow to Mars on Feb 1st and a nearly-direct hit to NASA's STEREO-Ahead spacecraft on Jan. 29th. Solar flare alerts: text, voice.
AURORAS OVER THE USA: The geomagnetic storm of Jan. 24th died out before night fell over North America--or did it? According to reports still trickling in, auroras were reported not only in Canada, but also in some of the lower 48 US states. Shawn Malone of Marquette, Michigan, took this picture looking north from the shores of Lake Superior: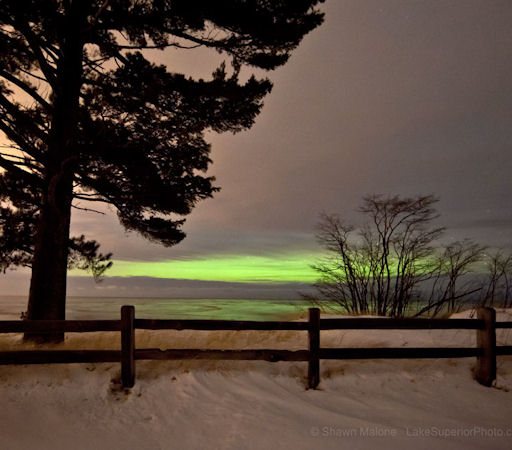 "I got to view a slice of the aurora through a tiny opening in an otherwise completely overcast sky," says Malone. "It appeared to be a pretty decent display."
Prompted by the CME warning, Mike Hollingshead of Nebraska drove 450 miles to the Badlands National Park of South Dakota hoping to catch a glimpse of the auroras. He got more than he bargained for: "While I waited for some sign of auroras, the most amazing fireball I've ever seen blasts down. It flashed brightly and illuminated the terrain around me." Later, the auroras made a belated appearance, turning the badland sky green.
More auroras could be in the offing. A solar wind stream is heading for Earth, due to arrive on Jan. 28-29. NOAA forecasters estimate a 15% chance of geomagnetic storms at high latitudes. Aurora alerts: text, voice.
more images: from Stephan Hoglund of Grand Marais, Minnesota; from Kimberly S Mietzah Damkoehler of Houston, Alaska; from Robert Berdan of Calgary, Alberta; from Bob Conzemius of Lake of the Woods, Minnesota; from Matt Melnyk of Edmonton, Alberta; from Sylvain Serre of Ivujivik, Nunavik, Quebec, Canada;
January 2012 Aurora Gallery
[previous Januaries: 2010, 2009, 2008, 2007, 2005, 2004]
---
Comet Lovejoy Gallery
[previous comets: McNaught, Holmes, Lulin, Tuttle, Ikeya-Zhang]