| | | |
| --- | --- | --- |
| Metallic photos of the sun by renowned photographer Greg Piepol bring together the best of art and science. Buy one or a whole set. They make a stellar gift. | | |
JUPITER AND THE MOON: When the sun goes down tonight, step outside and look up. Jupiter and the nearly-half Moon are gathered together less than 10o apart. It's a beautiful sight, and a nice way to end the day.
On Jan. 28th, pilot Brian Whittaker was flying 34,000 feet over Greenland when he saw the Moon approaching Jupiter above a vibrant blanket of auroras: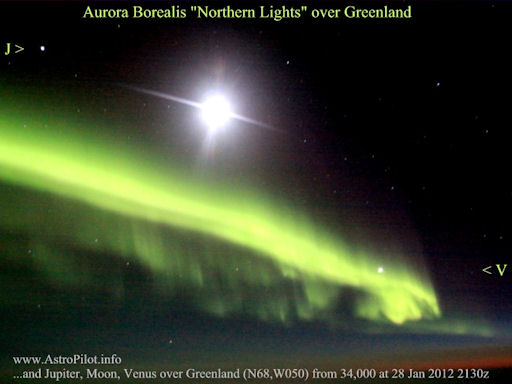 "The bright green aurora made the proximity of Jupiter, the Moon, and Venus very pretty," says Whittaker. "I can hardly wait for the closer conjunctions in late February and mid-March!"
more images: from Vesa Vauhkonen of Rautalampi, Finland; from Peter Rosen of Abisko, Sweden; from Daryl Pederson of Kihei, Maui, Hawaii; from Manfred Molkenthin of Osterholz-Scharmbeck, Lower Saxony, Germany; from Luis Argerich of Mercedes, Buenos Aires, Argentina;
RADIATION STORM: Accelerated by Friday's X-flare, energetic protons from the sun are still swarming around Earth on Jan. 29th. The radiation storm ranks S2 on NOAA scales, which means it is not a severe storm. Nevertheless, it can still affect spacecraft and satellites at the nuisance level. Click on the image for an animated demonstration: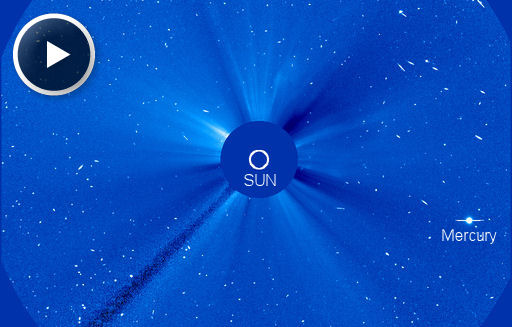 That was a coronagraph image from the Solar and Heliospheric Observatory (SOHO). The many speckles and streaks are energetic protons striking SOHO's onboard digital camera. Stronger radiation storms (S4 to S5) can fill images like these with "snow," rendering them useless for normal operations. The current storm will probably subside later today and restore SOHO's clear view of the sun.
FRIDAY X-FLARE: Departing sunspot 1402 unleashed an X2-class solar flare on Jan. 27th at 18:37 UT. NASA's Solar Dynamics Observatory recorded the extreme ultraviolet flash:
Sunspot 1402 is rotating onto the far side of the sun, so the blast site was not facing Earth at the time of the explosion. Nevertheless, energetic protons accelerated by the blast are now surrounding our planet, and an S2-class radiation storm is in progress.
The explosion also produced a spectacular coronal mass ejection (CME). A movie from the Solar and Heliospheric Observatory shows the cloud racing away from the sun at 2500 km/s or 5.6 million mph. Work by analysts at the Goddard Space Weather Lab shows that the CME will just miss Earth when its edge passes by our planet on Jan. 30-31. Click to view an animated forecast track: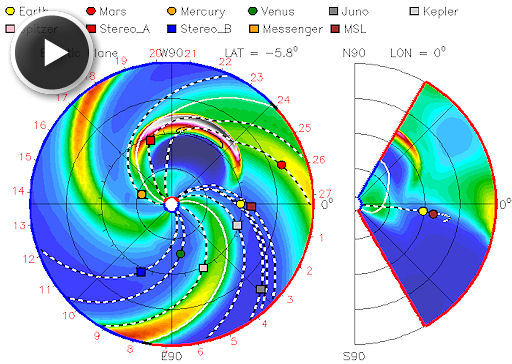 The cloud will deliver a glancing blow to Mars on Feb 1st and a nearly-direct hit to NASA's STEREO-Ahead spacecraft on Jan. 29th. Solar flare alerts: text, voice.
---
January 2012 Aurora Gallery
[previous Januaries: 2010, 2009, 2008, 2007, 2005, 2004]
---
Comet Lovejoy Gallery
[previous comets: McNaught, Holmes, Lulin, Tuttle, Ikeya-Zhang]