GOODBYE, JULES VERNE: Today at 1330 UT, European mission controllers commanded their amazing robot-ship Jules Verne to re-enter Earth's atmosphere over the south Pacific Ocean. The disintegrating spacecraft made a spectacular fireball observed by two NASA aircraft and possibly the International Space Station. First photos are coming in now!
GREAT PROMINENCE: A prominence of rare beauty is dancing along the sun's southeastern limb. Click on the image to set the scene in motion: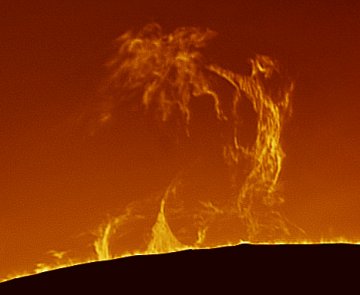 "That was the view through my Coronado PST on Sept. 28th," says Jerome Grenier of Paris, France. "What a great prominence!"
A prominence is a cloud of hot gas held in the grip of solar magnetic fields. With that in mind, watch the movie again. The motions you just witnessed are a major puzzle for solar physicists. No one understands why the top of the prominence cascades down as fast as it does; the "magnetic diffusion coefficient" of the medium shouldn't allow it. At the same time, swirls and vortices indicate an exquisite degree of magnetic control so far impossible to duplicate in Earth laboratories. How does the sun do these things? It's a beautiful mystery. If you have a solar telescope, take a look.
more images: from Jack Newton of Osoyoos, British Columbia; from Wouter Verhesen of Sittard, The Netherlands; from Larry Alvarez of Flower Mound, Texas; from Didier Favre of Brétigny-sur-Orge, France; from Robert Arnold of Isle of Skye, Scotland; from Cai-Uso Wohler of Bispingen, Germany; from P-M Hedén of Vallentuna, Sweden; from Steve Wainwright of Swansea, South Wales; from Les Cowley of the UK; from Emiel Veldhuis of Zwolle, the Netherlands; from Stephen Ames of Hodgenville, Kentucky; from Adrian Guzman of San Jose, California;
BEFORE THE FIREBALL: The final orbits of Jules Verne brought the doomed spacecraft over Europe where sky watchers were able to see intact one last time. "On Saturday night, I saw Jules Verne in the skies over Germany," reports amateur astronomer Dirk Ewers. "It was flying about 30 minutes behind the International Space Station, and I video-recorded both spacecraft using a 5-inch refracting telescope."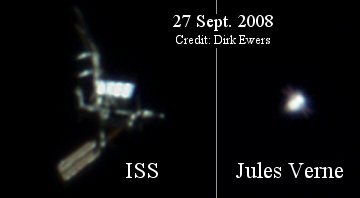 The movies are must-see. First, download the free DivX video compressor. Then, click here and here to play the flybys. Compared to the ISS, "the Jules Verne is really small, but on the video you can see its four auburn-colored solar panels with a width of only 1 meter," notes Ewers.
more images: from Sylvain Weiller of Saint-Rémy-Lès-Chevreuse, France; from Ralf Vandebergh of the Netherlands;
---
Sept. 2008 Aurora Gallery
[Aurora Alerts] [Night Sky Cameras]