| | | |
| --- | --- | --- |
| Metallic photos of the sun by renowned photographer Greg Piepol bring together the best of art and science. Buy one or a whole set. They make a stellar gift. | | |
CHANCE OF AURORAS: NOAA forecasters estimate a 30% chance of minor geomagnetic storms on Jan. 30th in response to a possible glancing blow from a coronal mass ejection (CME). The CME is from last Friday's off-center X-flare. High-latitude sky watchers should be alert for auroras. Aurora alerts: text, voice.
ARIZONA AURORAS: The geomagnetic storm of Jan. 24th produced some spectacular auroras around the Arctic Circle. Unnoticed by most observers, the Northern Lights reached all the way down to Arizona. In Payson, AZ, a robotic camera system operated by amateur astronomer Chris Schur captured the telltale green glow: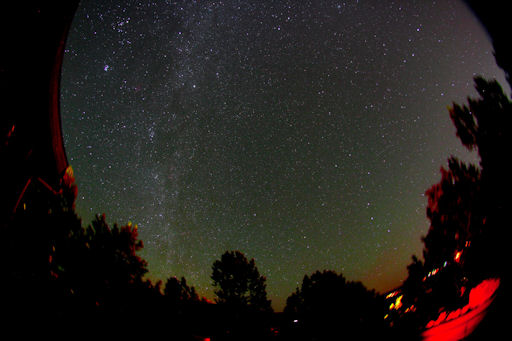 "From sunrise to sunset, our automated robotic camera system with a fish-eye lens recorded the northern half of the sky every five minutes," says Schur. "When reviewing all the frames taken during this night of massive auroral storming to the north, I discovered that the display had reached us, too. The normally neutral grey sky to the north suddenly at around 3am glowed an intense green hue for only about half an hour, then returned to normal. Although we have some airglow visible on many nights here photographically, we never get one this bright. I suspect I was actually getting the topmost layers of the aurora which was seen in its entirety in the northern US that evening."
The auroras were not visible to the unaided eye. It took a five-minute exposure by a low-light astronomy camera to reveal the faint and distant lights. These "deep-sky auroras" are a promise of bigger things to come--maybe even naked-eye auroras in Arizona--as solar maximum approaches in 2013. "The sun," says Schur, "is finally waking up!"
January 2012 Aurora Gallery
[previous Januaries: 2010, 2009, 2008, 2007, 2005, 2004]
WINTER PLANETS: All weekend long, sky watchers marveled at a beautiful sunset display of planets. Jupiter, the fat crescent Moon, and Venus formed a bright line in the western sky, as shown in this Sunday night photo from Vesa Vauhkonen of Rautalampi, Finland: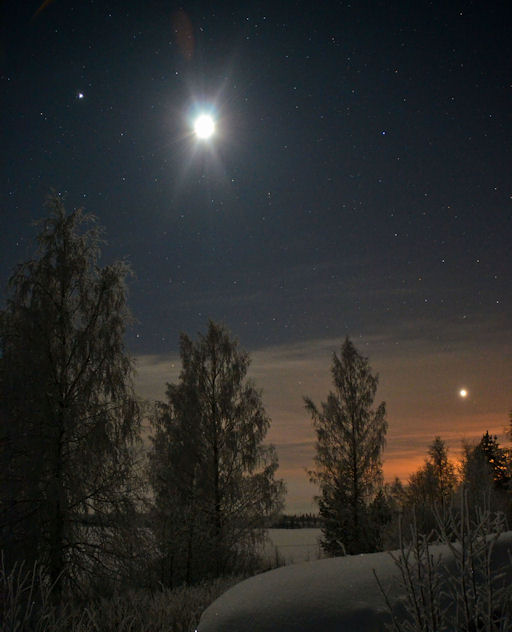 "The winter landscape was brightly illuminated by moonlight," says Vauhkonen. "There was a half meter of snow on the ground and a definite nip in the air. The temperature outside was -25 C!"
Consider this a preview of even better things to come. Venus and Jupiter are converging, and when the Moon swings around the sky to meet them again in late February, they will form a triangle in the sky less than 15o wide. Key dates to watch are Feb. 25 and 26. After that, Venus and Jupiter will converge even more until, on March 12th, the two bright planets will form a double-beacon in the sunset sky only 3o apart. In fact, throughout the first three weeks of March, Venus and Jupiter will be less than 10o apart, close enough to hide behind your outstretched palm. The winter planet show is just getting started, so stay tuned.
more images: from P-M Hedén of Vallentuna, Sweden; from Daryl Pederson of Kihei, Maui, HI; from Tamas Abraham of Perbal, Hungary; from Stuart Atkinson of Cumbria, UK; from Alan C Tough of Elgin, Moray, Scotland; from Mariusz Rudziński of Mirostowice Dolne, Poland; from Boris Kozelov of Apatity, Murmansk region, Russia
---
Comet Lovejoy Gallery
[previous comets: McNaught, Holmes, Lulin, Tuttle, Ikeya-Zhang]