Did you sleep through the auroras of Dec. 14th? Next time get a wake-up call: Spaceweather PHONE.
AURORA WATCH: Sky watchers from Scandinavia should be alert for auroras tonight. A high-speed solar wind stream is buffeting Earth's magnetic field and causing geomagnetic storms at high latitudes.
COMET DOWN UNDER: People watching the sunset in Australia and New Zealand today got their first glimpse of Comet McNaught. "It was very bright in evening twilight, sporting a broad tail," reports Andrew Catsaitis of Central Coast, NSW, Australia. "The comet put on a good show," agreed Barry Kilner of Brighton, South Australia. "It was brighter than Venus."
In Queenstown, New Zealand, Minoru Yoneto, snapped this picture: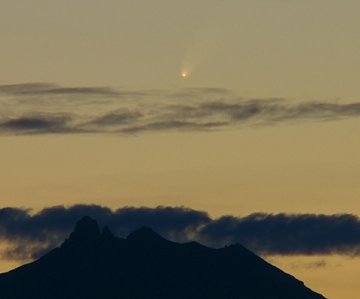 Photo details: Pentax *ist Ds, 500mm lens, F/4.5, ISO 200, 1/20sec
Comet McNaught is emerging from a weekend close encounter with the sun. During the flyby, fierce heat puffed up the comet so much, it became visible in broad daylight. Imagine ... a comet in blue sky.
Now McNaught is receding from the sun and heading south. It should be a spectacular fixture in sunset skies of the Southern Hemisphere for weeks to come. Stay tuned!
MEANWHILE ON THE SUN: "Everybody is looking for the comet, but is anybody still monitoring the Sun?" wonders Philippe Vercoutter of Ieper, Belgium who took this picture just hours ago: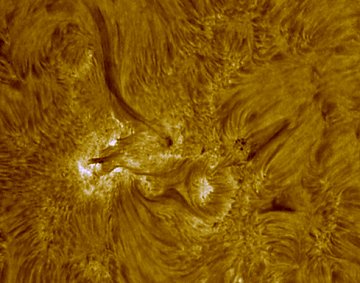 His photo shows "considerable activity around new sunspot 938." Although the sunspot is small, a long stare through the eyepiece of a solar telescope rewards the observer with surges of bright light and slowly-waving magnetic fields. It's the next best thing to a Great Comet.